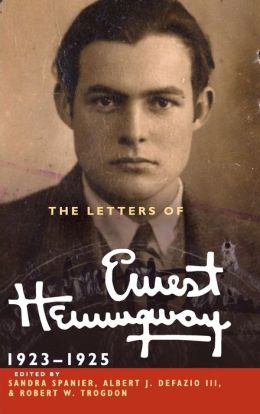 "The Letters of Ernest Hemingway, Volume 2: 1923-1925," edited by Sandra Spanier, Albert J. Defazio III and Robert W. Trogdon; Cambridge University Press ($40)
———
On Dec. 18, 1924, the 25-year-old writer Ernest Hemingway shipped a quick note to the literary editor Robert McAlmon, a friend and fellow Midwesterner living and working in the creative ferment that was Paris in the '20s.
"Am rushing you the Krebs," Hemingway wrote. "Hope it's all right. Gertrude thinks its (sic) a good story anyway. … Anyhow this story is as good as I've got ..."
"The Krebs" referred to one of Hemingway's great early works of fiction, the short story titled "Soldier's Home." Harold Krebs, the central character, is back in the Midwest, home from the recent war, a gloomy young man unsure what to do next. He sits at his parents' breakfast table, reading The Kansas City Star and not really listening to his nagging mother. It's poignant and moving in its portrait of a soldier emotionally incapacitated by his experience.
By that point in his budding career, Hemingway had begun to garner serious attention for short stories he had published and he was determined to keep it up. "Soldier's Home" would appear in McAlmon's "Contact Collection of Contemporary Writers" in mid-1925 and in Hemingway's first U.S. story collection, the ground-breaking "In Our Time," later the same year.
Just a few days before that note to McAlmon, Hemingway had sent off a short story to Frank Crowninshield, editor of Vanity Fair. Titled "My Life in the Bull Ring With Donald Ogden Stewart," the story indeed reflected Hemingway's fascination with the bullfight culture he'd witnessed in Spain two summers in a row. It showed other sides of Hemingway: The observer of vivid detail and the comic and wry social commentator.
"I hope you like the story," Hemingway wrote.
Alas, Crowninshield did not publish the brief sketch, though in a return note to Hemingway he called it "clever and amusing," according to the editors of the new "The Letters of Ernest Hemingway, 1923-1925."
As it turned out, no one ever published Hemingway's bull ring story. Until now, that is. It appears about halfway through the new volume. This is the second book in a series that currently projects to include 16, an extraordinary effort to corral more than 6,000 known pieces of Hemingway's correspondence. Disclosure: I had a small role contributing to the annotations to Hemingway's Kansas City-related letters published in Volume 1 of the series and have long been acquainted with the project editors through my membership in the Ernest Hemingway Society.
For all the biographies and critical studies that have been published about Hemingway in the last 60 years or so, none has really gotten as close to the man as this accumulation of letters is now allowing. It's as if we are watching a picture emerge on blank paper as the developer does its darkroom magic, to employ an old-school film reference.
"Unlike a formal biography," J. Gerald Kennedy writes in the introduction, "which reconstructs the subject's lifetime as a coherent narrative already defined by the arc of a career, this virtual narrative produces a rather different perspective, as shifting, incomplete, and episodic as lived experience, which it mirrors more closely than a biographical account."
This volume includes a mere fraction of the total cache — 242 letters, about 60 percent of which have never been published — but it spans three of Hemingway's most significant early years.
Except for a few dreary months in Toronto when his wife, Hadley, gives birth to their son and Hemingway grows increasingly disgusted with his newspaper job at the Toronto Star, this is the intense Paris period when he falls under the influence of Ezra Pound and Gertrude Stein but carves out his own path to the brink of stardom. He is learning how to navigate the publishing world as well as the bull rings of Spain and the snow-clad mountains of Switzerland and Austria.
Hemingway's voice in letters is often far different than his voice in fiction — he is by turns relaxed, playful, impulsive, solicitous, boastful and indignant. He's sloppy sometimes, and his typewriter is not always working, and with the closest of friends he engages in boisterous bursts of invented and wackily bent language, at least partly influenced by the poet Pound (a job is a "jawb," a letter a "screed," and you'll have to imagine what "yencing" means, because its equivalent can't be printed here).
"Especially in letters to male friends," Kennedy writes, "we meet a coarse, unbuttoned Hemingway who flaunts his prejudices, hostilities, and resentments with sardonic vulgarity."
This should not be a surprise to anyone familiar with the ever-coarse, ever-unbuttoned and ever-complex character that the young man from Oak Park, Ill., molded himself into. But it's also instructive and uncomfortable to listen in as Hemingway shovels racial, anti-Semitic and anti-homosexual epithets, especially as he's buttering up his pal Pound.
Some of these letters prefigure the social dramas and personal cruelties Hemingway will inflict years later in his Paris memoir, "A Moveable Feast." Others find him belittling one fellow writer or another. ("The Willa Cather Book starts getting really good about page 425," he quips to Stein. And to Pound he shares a swipe at Sherwood Anderson, one of the reigning American writers of the day who befriended Hemingway in Chicago and had given him letters of introduction to the Paris literati: "I have not had a drink for five days. It makes a man understand Anderson.")
Along with Pound and Stein (and her companion Alice B. Toklas), Hemingway's correspondents here include Edmund Wilson, who had praised one of the young writer's first published stories, and numerous others from the literary world; his parents, with whom he deployed, as Kennedy writes, "strategies of concealment and appeasement"; and close friends from the wartime American Red Cross ambulance service and his beloved woods-and-stream Michigan landscape, the personal lode that he had begun mining with great fictional success.
By the end of this book, "In Our Time" has been published in the U.S. to admiring reviews, but Stein's refusal to critique it (she told him she'd rather wait for his novel) makes Hemingway irate and apparently, the editors note, causes irreparable damage to their friendship.
In late 1925, Hemingway also is polishing the manuscript of his first great novel, "The Sun Also Rises," and quickly knocking out his much-overlooked satire and takedown of Anderson and Stein, "The Torrents of Spring." Hemingway is quite proud of himself over the latter, suggesting to Pound that it is "the funniest book I've read since Joseph Andrews."
For those with a passion for American literary history and an interest in the machinery of fame, these letters, ably and helpfully annotated by a team of scholars led by Sandra Spanier of Penn State University, provide an abundance of raw material and a few hours' worth of scintillating reading.