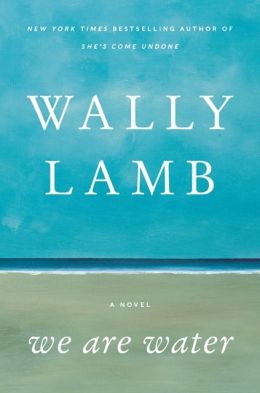 Wally Lamb's fifth work of fiction, "We Are Water," is a mesmerizing novel about a family in crisis that pulls together many characters and diverse themes and sets the bulk of its action against our collective modern angst and ambivalence.
And yet it was still a breeze to write —compared to his massive "The Hour I First Believed."
"'The Hour I First Believed' came to me in the wake of those two wild and crazy rides on the Oprah Book Club," Lamb says about his first two novels, "She's Come Undone" and "I Know This Much Is True." "Then suddenly it's just me and the computer and an empty house when my wife and kids weren't there. My agent had dollar signs in her eyes, and she got me this super-duper contract, and I signed the devil's agreement. I was so intimidated by success I froze, and I couldn't write. I was thinking about giving back the advance money and going back to high-school teaching."
Lamb, 63, eventually finished "The Hour I First Believed," but at a price. He "checked in with a therapist," after working on the book, a big part of which involves the Columbine High shootings, and learned he was suffering from "vicarious traumatization" from spending so much time probing the aftereffects of that day. Via Facebook, he befriended Columbine author Dave Cullen (who spent 10 years writing his own book on the subject) because, as Lamb notes, "It happened to both of us."
But brighter days were ahead. His next project was the hilarious, nostalgic novella "Wishin' and Hopin'," a delightful Christmas story told by Catholic school fifth-grader Felix Funicello that's light-years from the horrors of Columbine.
"It was the comic relief book," Lamb says fondly. "I was laughing, but I didn't know if anyone else would find it funny. But if you're writing about the aftermath of Columbine for nine years, you have to remind yourself you can walk on the sunny side of the street."
In "We Are Water" (Harper, $29.99), in which the Oh family prepares for an unconventional wedding, Lamb returns to the darker side of the street. Mom Annie has divorced her husband Orion and is planning to marry a woman, and their three adult children are reacting to the news in markedly different ways. Secrets about the past begin to spill out as the wedding day draws near, and Lamb revisits past horrors that have shaped this uncertain present as well.
The novel was inspired by tragedy: a real-life flood in 1963 that killed five people, including Margaret "Honey" Moody, the mother of three small boys, in Lamb's hometown of Norwich, Conn. Lamb was 12 at the time, and he remembers the water roaring past down the street from where his family lived. They were safe, but in "We Are Water," Annie's mother and baby sister are killed in the disaster, a loss that shapes her life in terrible ways.
Unsure precisely what he wanted to tackle after the soul-soothing "Wishin' and Hopin'," Lamb had casually said in a radio interview he was thinking about writing about the flood. A few days later, a woman called him and told him that the three little boys who survived were her cousins.
"They were 4, 2 and an infant," Lamb says. "The father climbed up in the tree, and the mother handed the boys up. Just as she was about to go up, the floodwaters took her away, and she drowned."
The oldest brother, Tom Moody, is in his 50s now, living in Texas. Lamb met with him, and they walked the flood path from the dam that burst to where Margaret Moody's body was found
"He's obsessed with finding out details," Lamb says. "He has vague memories. He remembers the car going underwater. They had tried to outrun a flood in a car. ... He remembers being put in the tree and looking down at the water and thinking it was exciting. Then all of a sudden his 2-year-old brother started screaming, and he realized something was bad."
The walk with Moody through town "was one of the most moving experiences of my life," he says.
Lamb used another real-life story as inspiration in the book: Josephus Jones, the black outsider artist who died under mysterious circumstances on the Ohs' property decades earlier, is based on Ellis Ruley, a laborer who started painting in the 1940s and 1950s.
"His stuff was really wild," Lamb says. "It lacks perspective and isn't technically artful, but it's dazzling. He couldn't sell anything in his own lifetime but was discovered in the '80s. Now he's quite collectible."
While writing about Josephus and the flood required research, the toughest part of "We Are Water" was (not surprisingly) channeling the voice of a pedophile who plays a major role. For help, he turned to members of the writing group he teaches at the Women of York Correctional Institute, many of whom have been victims of incest and abuse. Lamb has co-authored two books with the group, "Couldn't Keep It to Myself: Testimonies from Our Imprisoned Sisters" and "I'll Fly Away: Further Testimonies from the Women of York Prison."
"It felt very uncomfortable writing him," Lamb confesses. "I didn't want to go there. ... but I walked reluctantly into that dark forest because I wanted to know who he was. And I found out."
The result — a complex, fully formed, repulsive character — drew praise from one unexpected area.
"My kids are happy for my success, but they're not wrapped up in it. They've got their own great lives. But my oldest son Jared read the book and said, 'Dad, I really liked your book, but it kind of creeped me out that my dad nailed the pedophile character."
Lamb credits the women in the group for inspiring him in all sorts of ways. His recurring preoccupation with the corrosiveness of secrets, perhaps the defining theme of We Are Water, is largely due to his experiences with them.
"These women are stuck in prison, some for the rest of their lives," he says. "I teach them about writing, and they teach me a lot about life. So many of them have been derailed by toxic secrets in their own homes. ... I see them write and see the way it unburdens them. Those secrets finally come out when they feel comfortable. They become a little lighter. And then we all carry the burden with them so they don't have to."
———