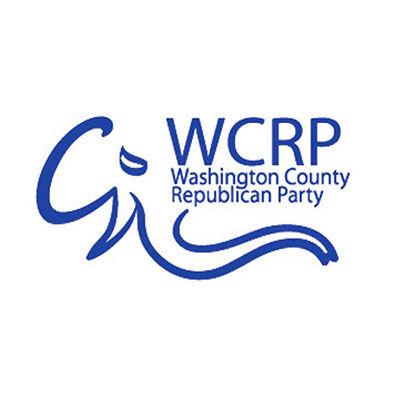 WEST BEND — The Washington County Republican Party apologized after an "over-zealous" volunteer displayed a sign trying to compare and associate the Democratic Party with two extremist and totalitarian regimes during Saturday's farmers market in West Bend.
The sign displayed a donkey, the symbol for the Democratic Party, with a swastika, a symbol of the fascist German Nazi Party of the 1930-40s and hate symbol still used today by white nationalists, and the Flag of China, a symbol for the Chinese Communist Party. Despite both the Nazi and Communist parties having diametrically opposed ideologies, the volunteer was hoping to associate the extremism of the two parties with the Democratic Party.
"It was an ill-conceived attempt to associate the Democrat Party with extremism and totalitarian regimes. It was done without approval of myself, or our executive board. That imagery and implied rhetoric is unacceptable in political discourse," said Republican Party of Washington County Chairman Randy Marquardt in a statement. "The Republican Party of Washington County condemns its use and apologizes to our community."
The poster was removed from the booth part way through the farmers market.
At the time of the incident the booth was manned by volunteers only, as Republican County of Washington Party board members are only able to participate in the farmers market booth as their schedules allow, according to Marquardt.
According to Marquardt, the Republican Party of Washington County leadership will be talking with the volunteer to let them know that sort of display is not acceptable.
"Yeah, obviously we'll have that conversation," said Marquardt. "Those kind of things are not indicative of what we are going for."
He added that the intent of volunteers and members who man the booth is to hand out political signs and talk with members of the community.
Washington County Democratic Party Chairman Stephen Roberts said that whether it was approved, it still hurt people in the community.
"This whole situation is kind of a prime example of why the Democratic Party advocates for cultural competence and sensitivity for all people," said Roberts. "Whether or not there was approval of the display by the Washington County Republican leadership, it really negates the fact that community members were hurt by that display at the farmers market booth."
He added that it is an example of letters that the Washington County Democratic Party has received in the mail.
"It doesn't surprise me, it horrifies me, and the answer is it's sad. It's an example also of the stuff I receive at our office in the mail," said Roberts.
Mayor, Downtown Association respond
West Bend Mayor Christophe Jenkins and the Downtown West Bend Association also condemned the use of a hate symbol in the display put up by the volunteer.
'I was appalled by this symbol of hate being used for political reasons at our West Bend Farmers Market in downtown city of West Bend. Regardless of political differences, using this imagery is never appropriate nor representative of who we are as West Benders. We should be able to participate in political discourse without resorting to such inappropriate content," said Jenkins, in a statement. "I have reached out to the local party leadership who are disavowing this behavior, and I plan on evaluating our public policies for farmers market with the Downtown West Bend Association, who host this event, to ensure that we can be a better and more welcoming community for all.'
"The Downtown West Bend Association Farmers Market condemns the use and will not tolerate the display of symbols of hate. We are devoted to lifting up the community with no room for political agendas," said the Downtown West Bend Association in a statement. "The imagery and rhetoric displayed last Saturday at the market are completely unacceptable and do not reflect the mission and values of our organization. We are taking further steps to ensure that this will never happen again at our market."
Roberts said that he hopes the Republican Party of Washington County would take steps themselves to ensure this doesn't happen. Marquardt said that they would.
"We'll have some of our people there to make sure something like this doesn't happen again," said Marquardt.
Residents respond on Facebook
Residents of Washington County who responded to our Facebook page largely said the use of the swastika was inappropriate and condemned it, too.
"Disgusting. That shows a lack of class by the organization whether it was approved or not. If it stayed up for the entire time the organization should be ashamed of itself," said Todd Bultman. "Furthermore, the Farmers Market is not the place to do this."
"That's disgusting, and makes no sense," said Cynthia Williams Kaeding. "Nazis and Communists are at opposite ends of the spectrum. Washington County GOP should lose their booth privileges."
"I thought the swastika symbol displayed in the WCRP booth at the Farmer's Market was totally inappropriate and inexcusable! I agree with previous comments that the group displaying this heinous symbol of bigotry and racism for whatever reason should face consequences for their lack of decency and complete ignorance," said Mary Ann Kelly. "There should be a public apology to the Jewish community. This was no thoughtless mistake, but a calculated use of a hate symbol that further demonstrates the dangerous extremism of the GOP. This was a terrible example of political extremism present in our community."
Miles Schwartz, however, said that there should be freedom of speech.
"Freedom of speech. Both sides," said Schwartz.
But others did not agree with his assessment.
"While it may be protected under the 1st Amendment, there is no excusing what it means. It is not a political symbol, it is a symbol of hatred and evil done toward the Jewish people. It's no secret this hatred exists today, which is why it must be called out and not tolerated. Our political parties and representatives lose all credibility when they rely on hatred and bigotry," responded Sue Behrends.
"The government isn't trying to tell them to take the sign down, decent citizens are. Learn what freedom of speech means," said David Good.
Marquardt said, once again as he did in the statement put out over the weekend, that the Republican Party of Washington County apologizes for the incident.
"Like I said, it's not something we want in the discourse," said Marquardt. "And we apologize to anybody that was offended by it."