Marian Audrey Monroe-Engle
Nov. 21, 1930 — March 14, 2023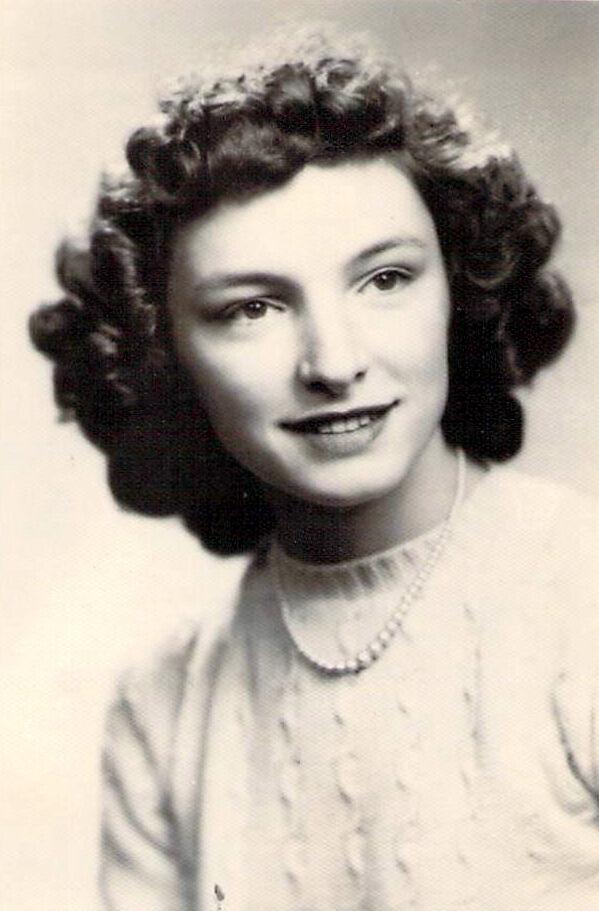 On November 21, 1930, in rural Hartford, John M. Frey and Armella (Schickert) Frey added a baby girl, Marian Audrey, to their growing family. Marian's marriage to Glenn Monroe gave her nine children: five sons and four daughters. Life and love took her to Maryland, Florida, and eventually back to Wisconsin. She worked a variety of jobs over the years, most notably as a waitress, Cub Scout den mother, and Bluebird and Campfire Girl leader. She was a referee for sibling fights, entertainment director of the household, head chef, and bottle washer. Their house was a safe haven for countless children — family, friends, neighbors, babysitting charges — and she made sure all left with full bellies and a smile on their faces.
Her marriage to Don Engle gave her a love of biking, and sent them across Europe on two wheels. Saturday nights meant watching "The Lawrence Welk Show." Weekdays meant staying up to date on the drama in "Days of Our Lives."
Marian was a devout Catholic, and greatly enjoyed trips to Holy Hill over the years, many of these with family in tow. She was prayerful, keeping a long list of loved ones she felt prayers were needed for. Her quick wit, sharp mind, and dogged frugality were also strong parts of her personality throughout her life. Reading books, watching the news, and keeping track of her growing family's lives all helped to keep her active. She was an avid Rummikub player and enjoyed her weekly games with friends over breakfast at one another's houses. She taught her grandchildren the fine art of bartering at a young age through regular trips to rummage sales; if you had a specific need or want, she would scour St. Vinnie's and every garage sale in a 30-mile radius to find just what you desired. She was also known for her clever reuse of items others would discard — entire pans of Rice Krispie treats or no-bake cookies could often be found in an old oatmeal container, and no scrap of paper was tossed if it could instead be trimmed and saved for the makeshift memo pad she kept by the telephone.
Marian delighted in children — especially her nieces, nephews, grandchildren, and great-grandchildren. From the doctor kit to the board games, the curlers to the dress-up clothes, Grandma Monroe's walls were lined with glorious ways to entertain young minds. Kids were sent out back to pick raspberries with the bribe of her famous raspberry torte when you returned with an ice cream pail full. The joy of spending a hot summer afternoon walking or biking down the road to feed the pet deer is a happy image for her passel of grandkids. Her home was where cousins bonded, as were the many trips she took them all to the zoo, the museum, and swimming lessons, summer after summer. She rarely missed sending a birthday card, complete with a typewritten note and handwritten signature— and if you were really lucky, a sheet of stickers. When great-grandchildren started coming along, she showered each with love in turn. Her voice and spirit always lifted when talking about any of her special visitors; especially those with chubby hands, sticky kisses, and squishy hugs for her.
Marian Audrey (Frey) Monroe-Engle passed away peacefully on March 14, 2023, at the Harbor Campus in Port Washington, with the sun shining and birds singing their morning songs. She was preceded in death by her parents; infant sister, Armella; daughter, Jeanne M. Mlsna; son, Thomas R. Monroe; husband, Donald Engle, as well as her former husband, Glenn Monroe; along with sister-in-law Mary Ann Frey; brothers Ronald and Richard Frey; and sisterin- law Dorothy Frey. Marian is survived by her children: Gary Monroe, Waubeka; Steve Monroe, Rio Rico, AZ; David (Julie) Monroe, Saukville; daughter-in-law Kathy Monroe, Cedarburg; Kathy Ann Monroe, Cedarburg; Ken (Jill) Monroe, Cedarburg; Pauline Williams, River Falls; and Karen (Kevin) Heiking, Slinger; also twenty grandchildren and twenty great-grandchildren, with four more on the way. She is further survived by brother Robert (Shirley) Frey, Rochester, MN; and sister-in-law Arlene Frey, Tucumcari, NM.
Our family will be following our mother's wishes for a simple Catholic Mass without visitation or reception. Services will be held Friday, March 24, 2023 at 5:00 p.m. at St. Peter Catholic Church, 200 E Washington St, Slinger, WI 53086.