WEST BEND
Paul E. Lupton
Aug. 17, 1941 — March 11, 2023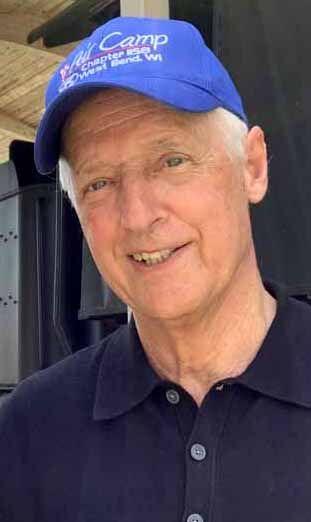 Paul E. Lupton, age 81, of West Bend died peacefully with his family by his side on Saturday, March 11, 2023, at Cedar Lake Campus. He was battling lymphoma cancer, which was discovered in early December.
He was born August 17, 1941 in Marquette, MI, to David and Helen (nee Erickson) Lupton and married Carol J. Lehman on August 12, 1967 in Berlin. Paul earned his undergraduate degree from St. Francis Catholic Seminary in Milwaukee and then his master's degree in Education from Northern Michigan University where he met his wife, Carol. In 1983 he earned his Ph.D. in Counseling from the University of Wisconsin-Madison.
Paul was a guidance counselor at West Bend High School for 32 years and always focused on helping others. Paul also had a passion for science, flying, and aviation and before he retired from teaching in 1998, he created and taught the Aerospace Technology course for high school students.
Personally, he earned his first FAA Flight Certificate in 1964 and over the years he flew over 3,000 hours while also earning FAA certificates including Commercial Pilot, Instrument Pilot, Certified Flight Instructor (CFI) and CFI-II (instrument instructor) pilot.
Paul loved spending time with his family. Over the years he led them on numerous camping trips and cross-country road trips. At home he was an accomplished woodworker, gardener, and model railroad connoisseur. Always looking to learn new things, he couldn't help himself from sharing new talents, skills, and information with others.
Paul is survived by his wife of 55 years, Carol; his son, Michael (Erin) Lupton of Lake Barrington, IL; and his daughter, Anne Lupton of Green Lake. He was the exceptional grandfather of Jacob Lutz, and James Lupton. He is further survived by his niece Teri (Terry) Wepner of Berlin, along with her family.
He was preceded in death by his parents, David and Helen Lupton, and his brother John Lupton.
A memorial service will be held Saturday, March 25, 2023, at Holy Angels Catholic Church, 138 N. 8th Ave. in West Bend. Visitation will be from 9:30 a.m.-10:30 a.m. followed by a eulogy and prayer service. At noon, a luncheon will be provided in the church basement hall.
The Schmidt Funeral Home in West Bend is serving the family. If you would like to leave a message of comfort and condolence, please visit www.schmidtfuneralhome.com.