Wherever he goes, Michael Crowley carries with him four-leaf clovers and a big smile, both of which he passes on to others he meets in the hope that he can help someone have a better day. His dedication to the community is deep and his commitment to making it a better place is evident through his nonprofit work, his time as an elected and appointed government official and his day-to-day activities, such as clearing the snow from a neighbor's driveway to sharing messages of hope on his Facebook page.
Crowley is often described as outgoing, positive and generous. Anyone who knows Crowley understands he is a man of his word and will do whatever he can to help. For his commitment to Waukesha County and its people, Crowley has been named the 2020 Freeman Citizen of the Year.
A nonprofit leader
Crowley was nominated by two people for Freeman Citizen of the Year: Waukesha County Supervisor and former New Berlin Mayor Ted Wysocki and Judi Murphy, president of Murphy Associates.
In his letter, Wysocki called Crowley "a man for all seasons" and highlighted his dedication to the community, and how he has been able to bring different groups together.
Murphy summed up Crowley as "one of the good guys."
During the past couple of years, Crowley, 56, was highly visible with his work as CEO of Habitat for Humanity of Waukesha County, helping the organization to grow in its outreach. In January, Crowley left Habitat for Humanity to become CEO of the National Kidney Foundation of Wisconsin. It was an opportunity he learned about through LinkedIn and the job description sounded like something for which he was well-suited. He also saw it as a connection to another nonprofit he has been heavily involved in since 2000, the Juvenile Diabetes Research Foundation.
He got involved in the JDRF when his son, Andy, was diagnosed with Type 1 diabetes at 2 years of age. He has spent years as the president of the JDRF board of directors and as the JDRF state leader-government relations.
Oftentimes, diabetes can lead to kidney issues, so Crowley felt that by being involved in the world of the National Kidney Foundation, he'd also be helping those coping with diabetes.
While advocating on behalf of the JDRF, Crowley said he was able to travel to Washington, D.C., and lobby for money for the organization.
This, in turn, led Crowley to be more interested in local politics.
"By helping others succeed, you feel fulfilled," Crowley said. "My purpose is to help other people be successful and help them achieve their goals."
JDRF
For the JDRF, Crowley has been heavily involved in two fundraising activities: the annual gala and the La Crosse Ride to Cure Diabetes, which he first organized.
The 102-mile La Crosse Ride follows a route over the Mississippi River to Minnesota, through Iowa, and up a 750-foot bluff before heading back along the Mississippi to La Crosse. It's done in one day. The La Crosse Ride to Cure Diabetes has raised more than $15 million since it started, and Crowley has personally raised $130,000.
"One of the highlights of my life is founding that ride," he said.
Crowley was given the JDRF Rose Promise Jersey, which is the ride's highest award. The Rose Promise Jersey represents a rider who puts others before themselves and recognizes a rider that does not have Type 1 diabetes, but has made a promise to Ride for a Cure, according to the JDRF website.
"You wear that jersey with pride and when people see it, it is inspirational," Crowley said.
Erin Vella, development manager for the JDRF, described Crowley as "one of our most engaged and inspirational volunteers.
"Over the 12 years I have worked with him, he does everything and anything we need to drive our mission forward," she said. During the pandemic when the fundraising took a big hit at the JDRF, like other nonprofits, Vella said Crowley still stepped up. She said the Ride for a Cure went virtual and to motivate people to still get on their bikes, Crowley rode the 102-mile route by himself and promoted it on social media.
"From a personal friendship ... he is one of the most wonderful human beings that I have ever met and I am so thankful for him and our relationship," Vella said.
Habitat for Humanity
Crowley is also proud of the homes he helped to build for people in need in Waukesha while working for Habitat for Humanity. During his almost two years with the nonprofit, there were four new homes constructed and three homes rehabbed. These homes help to strengthen the neighborhood, Crowley said.
During this time with the nonprofit, its ReStore on Moreland Boulevard also grew and continued to bring in more money for home construction, while also offering an inexpensive source for home furnishings to the area.
"I am very proud of my season of time there," he said of Habitat for Humanity.
Wysocki said Crowley's time at Habitat for Humanity may have become challenging during the pandemic, but he worked through it.
"From the very beginning of his work at the organization Michael aggressively worked to bolster the community's support for the goals of creating affordable homes for working people in the community. Michael's leadership during the past year, in the most difficult of times for non-profit organizations to operate, continued to support the goals of the organization providing much needed insight into the housing ecosystem and infrastructure in Waukesha County. His ability to involve other organizations in helping to achieve the goals of building decent, affordable homes for families who are unable to purchase a home through traditional methods was central to the success of the organi-zation," Wysocki wrote in his letter.
Murphy said an example of how Crowley works to bring organizations together was when he offered some extra space in the Habitat office to Blessings in a Backpack, which will be that organization's first location.
In the past year, Murphy said, many people have pulled inward and focused on themselves, but she said Crowly also "left room in this heart for others."
"He has got a lot more soul than a lot of people and it makes him happy to do what he does. And I think that's what I like about him the best, nothing is too much," Murphy said.
Growing up
Crowley was born in Peoria, Illinois, but spent much of his life growing up in New Jersey before moving to Ohio at 16 years old, where he went to college. He graduated with a degree in business management and accounting from Ohio Valley Business College in 1986. Eager to see a little more of the world, he moved to Arizona for work and then to New Jersey before moving back to Ohio. In 1987, he took a job as a quality engineer at Northern Engraving in LaCrosse. It was during this time he met his wife, Sherie, who was a neighbor in his apartment building and worked for the U.S. Fish and Wildlife Service.
The couple moved to Waukesha in 1991 and will be married 30 years on Oct. 5.
They have two children, Andy, who is 24 and lives in Waukesha, and Marissa, 22, who recently moved to Hawaii while finishing up her college education.
Crowley's dogs, Roxie and Mazie, are also an integral part of the family. Roxie, a Sheltie, gained some notoriety as the sledding dog when she was featured on "Good Morning America." Mazie, a Pomeranian, recently had her photo in The Freeman when she posed for a photo with the Crowley family snowman.
Rounding out the family are Ellie, a horse, which Marissa competed with, and a cat named Ringer.
Crowley's sister, Bridget, and his mom live in Ohio.
"My parents instilled the importance of compassion and taking care of people and animals," Crowley said.
When Crowley's dad, Patrick, died at age 65, he wanted him to look after his mother, which he has been diligently doing by making regular trips to Iowa to see his mother when she was living there. And before that, he moved to Iowa to help care for his grandmother.
Crowley's mother, Margaret, said "he is probably the best version of his dad. After his dad, he thought he needed to represent" his family.
"He has been really good at watching over me in terms of being a very dedicated son and brother," Margaret Crowley said.
She said she has enjoyed watching Michael grow into such a dedicated and hardworking person.
"My husband and I were both very good at making sure they, he and his sister, were both raised with a lot of good ethics and values. We didn't spoil them, we just made sure they learned all their lessons and they were just really good children."
Manufacturing
Before entering the world of nonprofits, Crowley was employed in the manufacturing sector. When Crowley was hired by Northern Engraving it was for the quality control field, which his dad had also been involved in. His dad's work inspired Crowley to follow in his footsteps. It was also the smell of plastics that made Crowley want to be in that industry.
His work took him to Midland Plastics in New Berlin, where he worked for 24 years and ultimately served as vice president — technical services, quality and operations.
While at Midland Plastics, Crowley got involved in the New Berlin Economic Development Corporation, where he served as president. That, he said, was the start of his nonprofit work.
Murphy said his experience in the private sector clearly has helped him be successful in the public sector, such as having a good marketing sense and being able to bring people together.
"I saw him in so many areas and every area he was involved in, he was simply outstanding," Murphy said of knowing Crowley through the years. "It kind of blew me away. … A lot of people talk a good game and Mike puts himself where his mouth is. He is never too busy."
Family
Although Crowley's list of accomplishments in his career and with politics and nonprofits is great, he considers his biggest accomplishments as being married for almost 30 years and raising two healthy children — as well as helping others succeed.
"I help bring others to the top and to continue to thrive and help organizations thrive," Crowley said.
His wife, Sherie, described Crowley as "friendly, outgoing, cheerful, no matter what time of the day, morning noon and night."
She said Crowley got his positive attitude from his parents. He believes that people are good-hearted and he has faith in them, she said.
Marissa Crowley, who tends to be more extroverted like her dad, said when someone meets him his energy is contagious and "that makes you want to do better and make people happy."
She said her father's goal is to make someone smile.
"He always makes it a point to put some positivity in the room," Marissa Crowley said. "He inspires you to want to do the same thing, to go out and make a difference."
She said one of her favorite times as a child with her dad was building snowmen. Sometimes it would take all day because they would create a family of snowmen including a snowdog.
Despite how busy he was with work, Marissa said Crowley always made time for his family and would take them camping and to horse shows.
"I am just proud of him; he works hard," Marissa Crowley said. "For people to recognize all of the hard work he does, I am proud of that."
Andy Crowley said he has learned how to be supportive and caring toward family and friends from his father, as well as helping others as much as you can.
"I enjoy being with him as much as I can. It doesn't have to be an activity, just being around him, watching TV, sitting on the couch at night," Andy Crowley said. "I look up to him with how much he has had his hand in helping me in my childhood and into my adult life. He was always there for anything I needed."
Government experience
During his tenure as the county supervisor for the 16th District since 2012, Crowley said he has always wanted to be available to the community and made sure to be responsive to their viewpoints on the Waukesha West Bypass. When it came for the County Board to vote on the bypass, Crowley was the lone dissenter.
"We operate the county as a business. We are a well-oiled machine with great leadership," he said.
Crowley has served with the Southeastern Wisconsin Regional Planning Commission since 2011 and is the vice chairman. He was appointed to the role by then-Gov. Scott Walker.
He was also appointed by then-Waukesha Mayor Carol Lombardi to the Waukesha Plan Commission in 2002, which he served on from 2002 to 2007.
Crowley is also proud of his work as the chairman of the Waukesha County Airport Operations Commission, which he has served on for 17 years.
He said his hopes for the airport is for a restaurant to be added to bring in more traffic. He also worked to get the airport off the county tax levy in 2020.
Wysocki said Crowley has laid out a successful plan of operations for the Waukesha County Airport, which led to the airport operations being a self-sustaining enterprise requiring no taxpayer levy contributions.
"These activities alone would point to his commitment and success in strengthening the community," Wysocki said.
Four-leaf clovers
An Irish symbol of luck is very near and dear to Crowley's heart — the four-leaf clover. He said he has a talent for finding them, something his mom taught him. He carries them in his wallet and hands them out to people with the words "Love, Luck, Hope and Faith" written on the back and sealed in plastic.
He says the clovers for him are about inspiration and positivity.
Crowley's mother remem- bers when Michael was about a year old and they were in the yard when she found a four-leaf clover. She said she didn't even know such a thing existed, but then as she looked closer she found about 35 to 40 more. When she showed them to her own mother, Margaret Crowley said her mother smacked her hand and the clovers went all over the yard, but Michael picked them up and brought them to her, patting her hand because he understood she was upset.
Years ago, Crowley gave a four-leaf clover to a family friend who said she needed some luck after being diagnosed with a brain tumor. About a dozen years later after surgery, prayers and the clover, the friend is doing well.
He likes to give the clovers to people who are down on their luck, including a woman he met at a bank who was clearly having problems. He gave her a clover and she had tears in her eyes, he said.
In 2020 during the JDRF annual fundraiser, Crowley bought raffle tickets and won an all-expense paid trip to Ireland. At the time, he had a coin with a four-leaf clover from Ireland given to him by friends in his pocket. He plans to take that trip with his wife for their wedding anniversary this year.
Free time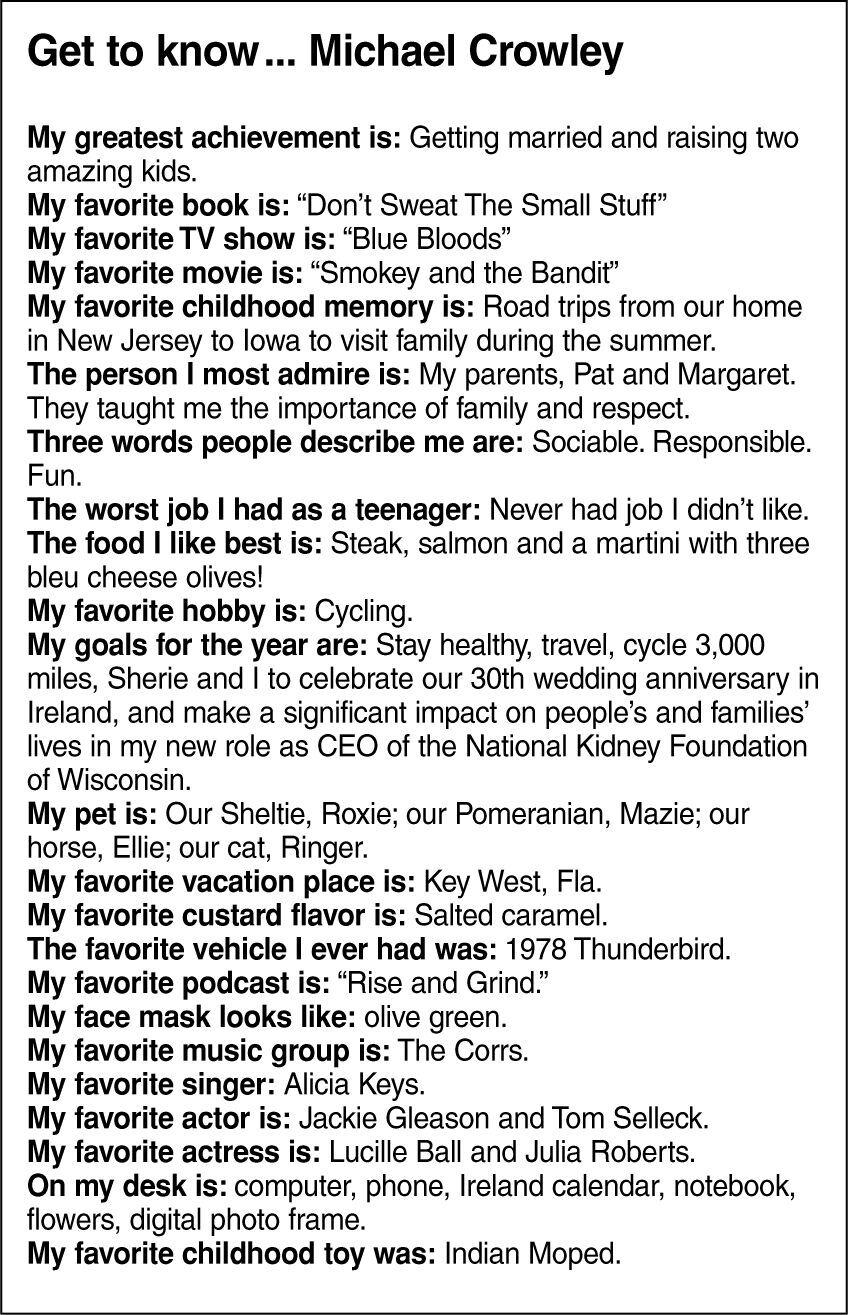 In his free time, Crowley enjoys cycling and can often be found riding from Waukesha to the Jefferson County line and back, which also serves as training for the La Crosse Ride to Cure Diabetes.
In a typical week he will bike 50 to 60 miles at a time several times. In the winter, he will bike on his Peloton every night.
His love of cycling has taken him on about 20 fundraising rides, including to Death Valley. He has raised more than $140,000 during that period. He has also raised about $1,500 for the Leukemia & Lymphoma Foundation, doing the "Scenic Shore 150," cycling from Mequon to Sturgeon Bay.
He also enjoys billiards and even appeared on ESPN briefly when he played the No. 1 woman player in the country, Ewa Mataya Laurance, during a 1995 pro-am billiards tournament. He said he missed the ninth ball after running the table, leaving the game open for her to win.
He can also be found helping neighbors by clearing their driveways of snow or building a snowman family in his front yard. This year, his giant snowman is also surrounded by hearts painted in the snow.
Future goals
Crowley wants to travel more with his wife and continue to make a difference in the community, partly through growing the National Kidney Foundation of Wisconsin. He hopes to extend its reach past southeastern Wisconsin to have a greater impact on the entire state.
That wanting to leave a positive impression even spreads to Crowley's use of social media where he starts every day with a post about something positive, such as a "Peanuts" cartoon. It's also a way for him to communicate with his mom who also comments on the post, letting Crowley know she is doing fine.
"It's the way social media should be with something positive," he said.
He also wants to stay involved in community service.
"I don't want to just exist. I want to make my mark not only in my community, but in people's lives," he said.