CEDARBURG — "Be Kind, Rewind" is back in the lexicon. Well, at least in downtown Cedarburg.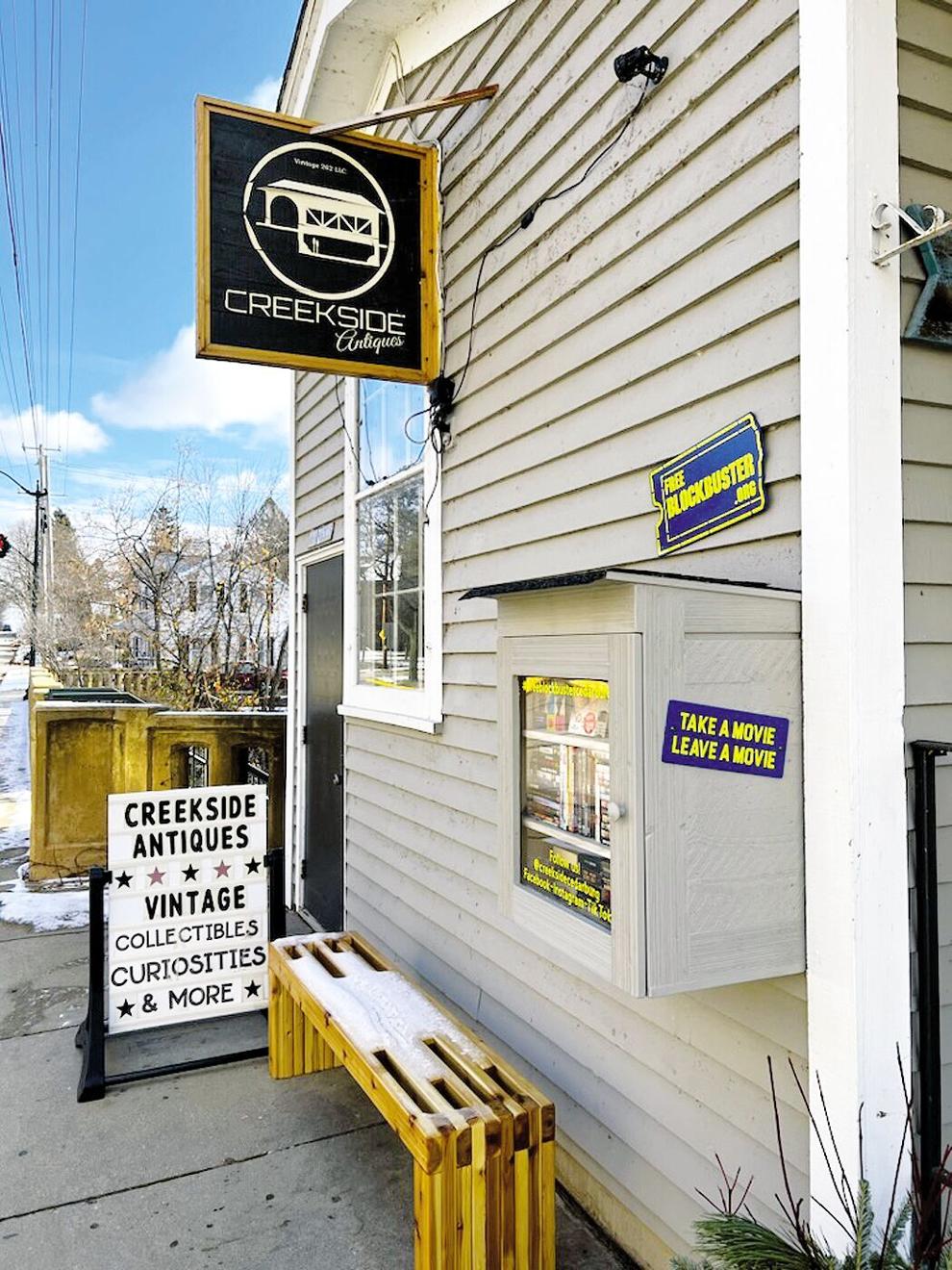 A "Free Blockbuster" box - a takeoff of the free library concept - was installed on the side of the Creekside Antiques building earlier this month. Storing multimedia ranging from DVDs, VHS tapes, Blu rays and video games, the rules are simple: take a movie, leave a movie.
Free Blockbuster is a collection of hundreds of franchises scattered throughout the country as well as England and Australia. Its website provides instructions on how to launch and monitor one. Once a box is either built or purchased from the website, and after it is decorated with the classic blue and gold Blockbuster color scheme, it's showtime.
Creekside Antiques owner Rick Land got the idea from one of his longtime vendors, Tim Gray, who mentioned that there is only one other Free Blockbuster location in Wisconsin, more than two hours away in Stevens Point. Land was immediately intrigued and began to investigate further.
"Tim's background is multimedia," Land said. "He has a case that he rents here, and his case has VCRs for sale. It's one of those things where we just get nostalgic. Blockbuster was part of everyone's recent past. The blue and gold sign is so iconic. So when Tim brought it to my attention I really thought we could do this."
Until Netflix began its DVD-by-mail business and changed the landscape forever, Blockbuster was the largest provider of home video and video game rental services for more than 20 years. At its peak it operated more than 9,000 locations around the globe. After folding the company a decade ago, there is one lone Blockbuster left standing, a privately owned store in Bend, Ore.
"The trademarks have run out, and there might be a gray area regarding who owns it or who was the last to have owned it," Land said. "I think it helps that it's called Free Blockbuster. This is almost a completely different entity, but it harkens back to the good old days of Blockbuster."
The Free Blockbuster box attached to Creekside Antiques has room to store about 75 movies, according to Land. He's been getting flooded with movie donations, and the foot traffic from curious locals has been fun to observe.
"You're not sure if it's gonna fly in downtown Cedarburg," Land said. "I had put the box out there, but we didn't have the signage ready yet. I had a lot of local residents walking past saying, 'Oh, I see a free library coming!' You want to tell them yes, but at the same time I had to tell them to wait a little longer and they will see soon. Once I opened it, within an hour we already had people digging through it."
Land, who has owned Creekside Antiques since January 2021, is using the Free Blockbuster concept as his initial step to rebrand the store and revitalize interest. He's hopeful that people who are attracted to Free Blockbuster will be intrigued by what awaits inside the store, which houses a variety of retro and vintage items, including multimedia hardware.
"We were trying to think outside the box, no pun intended," Land quipped. "If someone is interested in someone's old VHS tapes, they will likely be interested in what they could find in the store. We have VHS players for sale inside the store, for example, along with even more VHS tapes to choose from. The tie-in was just too good to be true."
With so many movies being donated at the moment, Land said he will be devising ways to keep the selection fresh, such as possibly introducing a "Vendor Picks" section and showcasing holiday films in December, for instance. Land has already seen a movie placed in the box that brought back fond memories: 1999's romantic comedy "She's All That," which he and his wife went to see on a date night. He's expecting more similar trips down memory lane in the weeks to come.
"It fits well with the store because it's memory-evoking," he said. "We have so many new and old movies, and sometimes people pick one up and think wow, this movie is 20 years old already? It has a lot of potential, it really does."
Creekside Antiques is located at N69 W6335 Bridge Road in Cedarburg. More information about Free Blockbuster can be found at FreeBlockbuster.org.