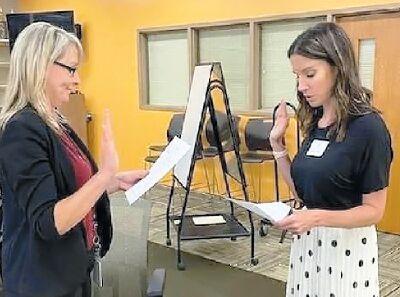 CEDARBURG — Cedarburg School Board member Jennifer Calzada announced her resignation from the board and is withdrawing from the upcoming election, stating that she and her family have received harassment.
"Throughout this election and during my time on the Cedarburg School Board, certain members of the community have continuously put forth a lot of negativity on myself and my family," Calzada said in a statement to the News Graphic. "It is unfortunate what certain people in Cedarburg deem as acceptable behavior. Children and family should be off-limits. My first priority, before anything else, is being a wife and mother. The personal attacks and negative actions are now greatly affecting my children and other family members. 
"I cannot continue to allow this to happen, and I need to protect them from it as much as possible. With that, I am resigning from my position on the School Board, and will no longer be actively campaigning. I am taking this time to focus on my family. I look forward to continuing to be involved and engaged at various levels, as Cedarburg is a great community with much to be appreciated."
Cedarburg City Clerk Tracie Sette stated that Calzada's name will still be on the ballot for the upcoming primary election.
Calzada is not the first school board member to resign during the 2021-22 school year. Calzada was appointed to the School Board June 2021 after the resignation of Brandon Goldbeck. Not too long after Calzada was chosen to become a School Board member, board President Chris Reimer resigned from his position. Laura Stroebel was appointed to fill in Reimer's seat.
Cedarburg School Resource Officer Casey Ward stated the only report he is aware of from School Board members about any harassment is when a parent was cited for disorderly conduct after a School Board meeting on Sept. 15.
Incumbents Rick Leach and Laura Stroebel are running for a seat on the School Board along with Hani Malek, Elizabeth Charland, Mike Maher, Jamie Maier, Ryan Hammetter and Kate Erickson.
Unfortunately, targeting school board members and candidates with negative messages, harassment and even threats is not unusual, in Ozaukee County or elsewhere. 
In the months leading up to the divisive Mequon-Thiensville School Board recall election last November, the harassment sometimes went beyond stealing yard signs. All four incumbent, volunteer members targeted for recall – Wendy Francour, Erik Hollander, Akram Khan and Chris Schultz – received unsigned "resign or else" letters mailed to their homes. One of the board member was the target of a relentless negativity campaign, in which flyers were illegally put into mailboxes across Mequon and Thiensville, making accusations about his business practices.
The recall candidates were no less of a target. Amber Schroeder, who has organized much of the effort on behalf of candidates Kris Kittell, Scarlett Johnson, Charles Lorenz and Cheryle Rebholz, told the News Graphic that the candidates, in addition to many of their supporters, were subjected to "a ridiculous amount of bullying and harassment."
She said that, even today, friends in their circle are being bullied online, their children are being picked on and their families are being targeted. 
Last November, four members of the Oconomowoc School Board resigned, with one moving out of the city because he said his family did not feel safe in their home.