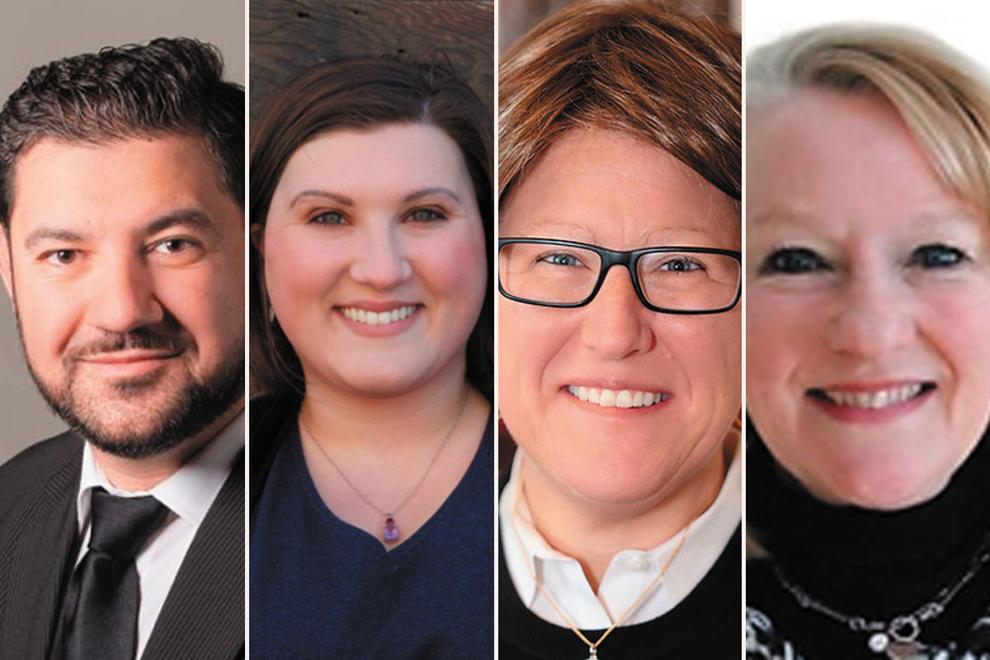 MEQUON — District priorities, community differences and the pandemic's impact were among the discussion points addressed during a recent forum with the candidates running for two seats on the Mequon-Thiensville School Board in the spring nonpartisan April 4 election.
Hosted by The League of Women Voters of Ozaukee County via Zoom last week, incumbent Wendy Francour and newcomers Sergey Babakhanov, Kate Barikmo and Megan K. Heinzelman were asked nearly a dozen questions regarding important topics concerning the Mequon-Thiensville School District.
Erik Hollander, who was elected to the board in 2020, is not seeking another term.
After sharing their experiences and the skills they believe would make them an effective board member, whether it's currently serving on the board, being a part of corporate boards, having worked with several police departments or teaching seventh grade, each candidate weighed in on the district's top priority and why.
Heinzelman kicked things off by saying she is concerned with children having the proper educational tools following following the distance learning during the pandemic. Babakhanov followed by saying that his top priority is upholding strong education programs.
Like Heinzelman, Barikmo and Francour said addressing the learning gap caused by COVID and focusing on the district's academic recovery plan implemented is important.
"Part of that is our summer academic boost program," Francour said. "Our summer academic boost students from last year showed over double the achievement of our students who didn't participate, so it's really working."
Addressing academic gaps
When asked how to address the social and academic gaps that exist after the pandemic, Barikmo said maintaining social emotional education is crucial.
"MTSD has social emotional learning and curriculum in its schools, as well as a social emotional coach ... That is super important," she said.
Francour recommended continuing to encourage year-round learning and forming home-to-school connections with parents and guardians, while Babakhanov and Heinzelman agreed that it comes down to evaluating a child's wishes and desires and providing fun and safe ways for kids to get past COVID, such as attending social events or extra-curricular activities.
"It is important for kids getting them back in the teams and back with their friends and enjoying each other," Heinzelman said "That will help them also get excited to go back to school."
Community divisiveness
As to how the board can help address future differences in the community to avoid discontent, the candidates pointed to open and transparent communication as well as establishing rules and boundaries to reduce conflict.
"The board must be open minded and listen to both sides," Babakhanov said, adding that it must bring everyone together to the negotiation table so everyone can express their opinions.
Heinzelman explained that setting rules and boundaries can help with openmindedness.
"That should be the first and foremost priority…" she said.
Barikmo believes that since there will always be some form of differences and discontent, addressing misinformation about certain issues is a must.
"Getting the real factual information out to the community is a top priority," she said, noting critical race theory and social emotional learning as issues causing some confusion within the community. "The board can do all of these things, but it's also up to the community members that when they come in and they speak to the board, they do it with kindness and knowing that everyone involved has the best intentions."
Francour followed with the importance of the board having an open door policy, as she mentioned that it currently hosts open office hours open to anyone in the community to come in and talk.
Retaining and attracting the best teachers The candidates also weighed in on how the district can best support, retain and attract teachers and staff, a pressing issue Superintendent Matthew Joynt discussed during the State of Community luncheon March 8.
According to Francour, one of the things the board is working on is bringing substitute teachers into the class so that teachers have common planning time and have the ability to do the things they need to do.
"One of our guiding principles is that staff is our most valuable asset. They are in front of our children hours a day and we must make sure that we stay a topnotch destination for staff," Francour said.
She added that a health care clinic is also available right on site and free to staff.
Barikmo took from her own experiences as a teacher, sharing that with falling salaries and rising costs due to inflation, there's no doubt teachers and staff are exhausted.
"Their plates are continually added to and usually not a lot is taken off their plates," she said.
To combat this, Barikmo wants to make sure the workload of a teacher reflects what one person can do in a day, also recommending the district implement more mentor programs for new teachers and resources to create standard alignment curriculum.
Babakhanov and Heinzelman both emphasized the importance of recognition and recognizing teachers on a daily basis, as it supports and encourages educators to continue to do their best.
"It gives you a boost," Heinzelman said, while Babakhanov added. "At the end of the day, it's a great, great pleasure to see teachers smile." As a business owner, Babakhanov said continually recognizing employees motivates them to work even harder.
But one factor that all of the candidates believe will help keep teachers and staff as well as attract new faces is competitive compensation.
"We are looking at ways to make sure we are competitively reimbursing our staff," Francour said, noting how the district looks to gain additional state funding to cover the gap. Barikmo reiterated that the district is trying to become in the top third for compensation.
To watch the entire forum, visit https://bit.ly/408nO7O.