GRAFTON — Homestead scored early, Cadence Benedict scored often and the Highlanders countered a Grafton rally in the middle of the opening half to go on to earn an 8-2 victory Thursday in a North Shore Conference girls soccer match.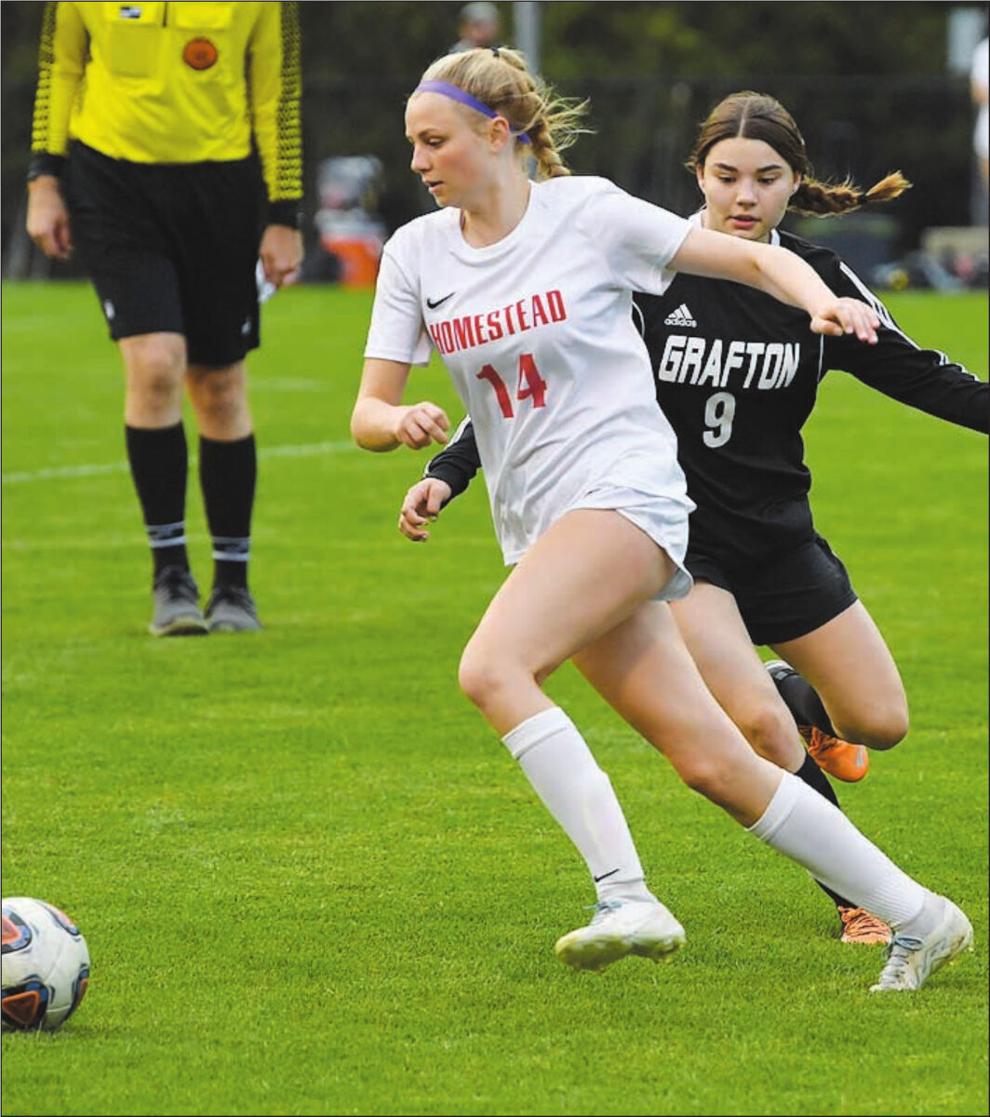 The visitors got a fast start, finding the net twice in the first 61 seconds of the match. Homestead struck first when Julia Bentley made a dangerous run down the right side before crossing it over to Sophie Rater, who finished 26 seconds into the contest. Then, Benedict struck with a goal that she admitted was intended to be a pass. However, the Grafton keeper was able to get a hand on the high-arching boot and it deflected off her hand and went in to make it 2-0.
"It was a cross," Benedict confirmed. "I feel like it just kind of went toward the goalie and then it went in."
While the second goal coming the way it did may have been somewhat inadvertent, the Highlanders using a strong start to build a lead was definitely by design.
"I think it's the first five minutes, first shot, first tackle, first goal is our mentality," Benedict said. "We try to get the first in because it brings the other team down."
Grafton may have been down, but the Black Hawks battled back. The home team pulled within 2-1 in the 26th minute after scoring on a penalty kick.
"They tried to play a ball and Kayla (Weisgerber) intercepted it and she had plenty of space. She was dribbling through. She's a former midfielder, and she played in the midfield early this year, so she's got the ability to pass and that vision," Grafton head coach Jason Rogers said about the start of a sequence that put his team on the board. "She played an absolutely great ball through to Ella Gentz and Gentz just beat the other girl to the ball and got fouled."
Freshman midfielder Brayleigh Sumner then knocked in the attempt.
"Brayleigh Sumner stepped up as a freshman and buried it in the back of the net. I talked to her at halftime. She said she was nervous, she'd never taken PKs before," Rogers revealed. "It was like she's done that lots of times."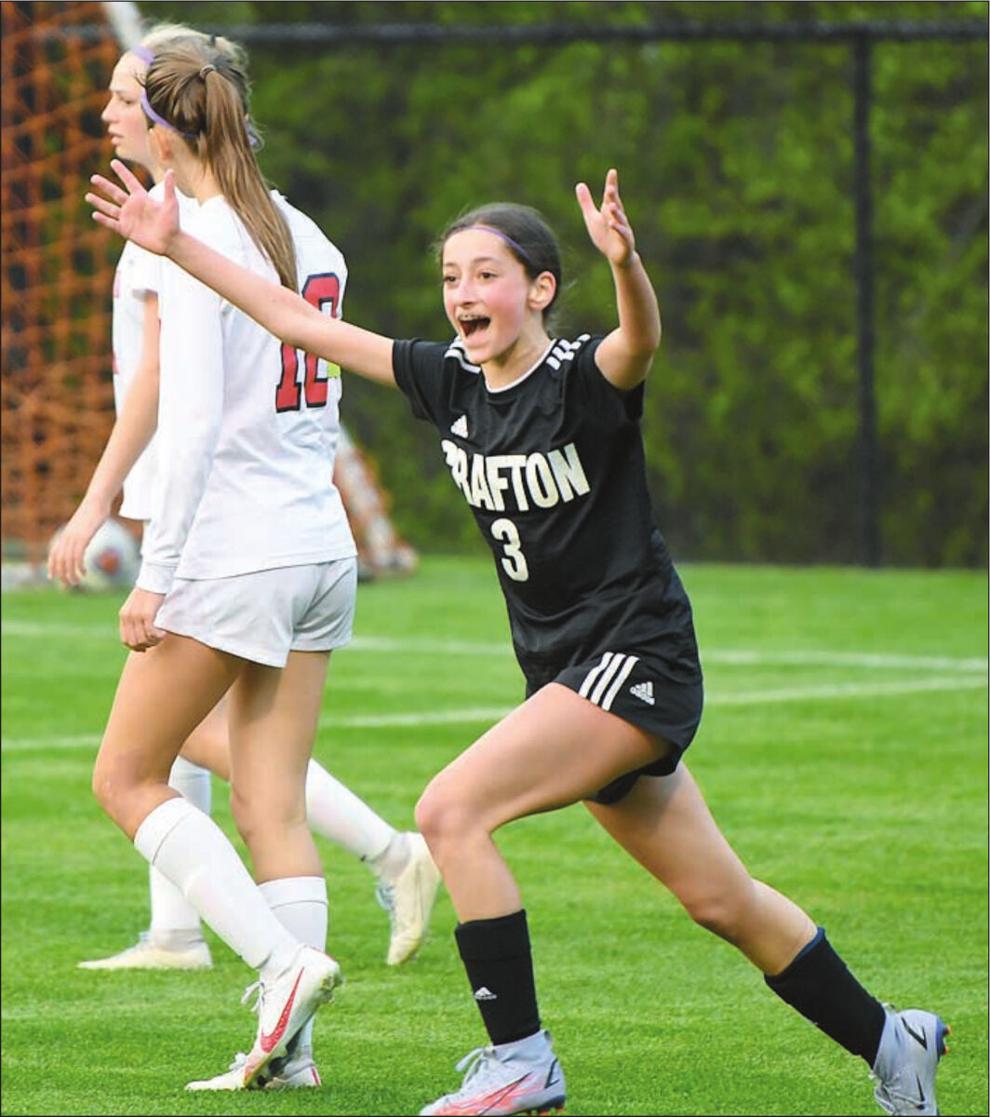 Homestead got that goal back four minutes later, with Benedict doing the damage, but the Black Hawks answered. Olivia Ruff maneuvered through traffic, beating four different defenders in all on the sequence, then passed to Gentz, who went high to finish from the right side of the pitch.
"Again, freshmen stepping up in situations that they are put into everyday. It bodes well for the future. She's been doing that all year, beating one, two, three players and she found a very good pass and we were able to put the ball in the back of the net," Rogers said about Ruff, who notched the assist on the play.
"She's scrappy out there," the Grafton coach added about Gentz. "She's willing to stick her nose in everywhere and she gets fouled and still keeps getting up and fighting."
Rogers added that the thing he likes about Gentz is she gets knocked down often, but always manages to get back up and keep going. He said that is what his team did Thursday to climb within 3-2 late in the opening half.
"That's something we've talked about all year, having the right attitude," he said. "It's very easy to go down 2-0 in a minute and go, 'I'm done.' They scratched one back and you get rejuvenated energy. Unfortunately, we conceded again, but we still fought like hell to get another one. That's all you can ask."
However, Benedict was not done. She completed her hat trick late in the half, notching her third tally of the match with a run down the right side and a finish off the far post to make it 4-2.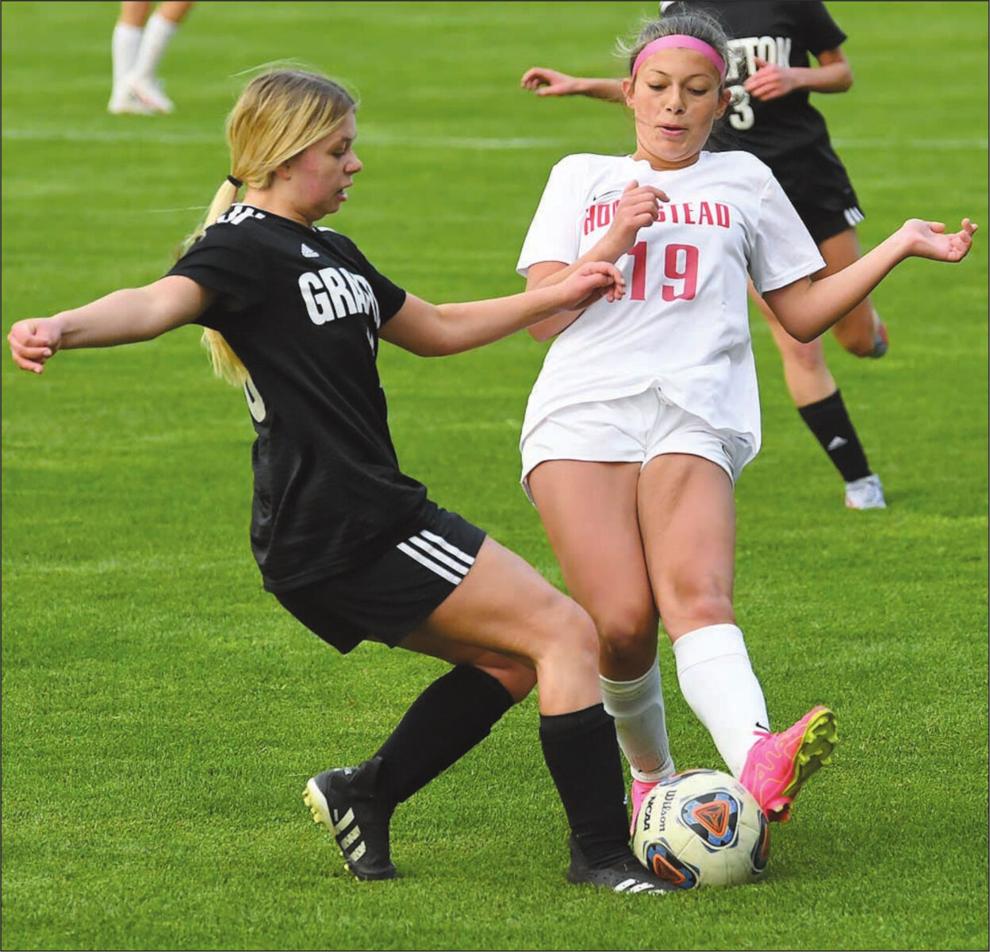 She was strike again early in the second half. Benedict said her favorite goal of the night came less than three minutes into the frame, when she finished thanks to a feed from Rater.
"I really liked my tap in," Benedict said. "That would probably be my first one (favorite) just because it is a team goal. She crossed it, I finished it."
Benedict finished with four goals against Grafton, extending her string of multiple goal games.
"I scored four goals this game and two goals every single game for the last five games," she said after extending her season total to 20 goals. "It feels great."
She has been on a roll of late and explained that it is easy to build confidence when you see the ball ending up in the net on a regular basis.
"Once you get one, you just keep going," the junior forward said. "You just have to know yourself and when to shoot, when to dribble, all that stuff."
Homestead would put another tally on the board 75 seconds later when Caitlin O'Brien got to a loose ball in the box off a corner kick and put it away to make it 6-2. Natalie Bentley and Renee Zaiss would also score for the winning side.
"I really think that our main mentality is playing for our seniors since it is getting to the end of our season. We really like to play for like Kate Judd, Renee Zaiss, and I think our bench comes off with the best energy," Benedict said. "Shout out to Maisie Lidstone, she is awesome. She brings energy and I think our bench energy also brings so much intensity. I think it's just because we're all positive to each other and all really like each other."
Homestead was back in action Saturday, playing Germantown to a 1-1 draw in nonconference play. The Highlanders are now 9-8-1 overall, including a 6-1 mark in NSC competition. Benedict said that the record does not tell the whole story.
"Our record does not (reflect) our team and our culture," she noted. "We had a very hard schedule. From our first game to our last game, we have improved immensely. I think if we were to play the teams that we played the first (several weeks of the season) now, we would either tie or win or have a very good game and it would be tough for them."
Homestead will be back in action today at 7 p.m., hosting Cedarburg.
For Grafton, the goal remains taking steps forward.
"We're just trying to build, day after day. We know where we stand in things and we know there's always a regional game to come play and we're kind of building for that," Rogers said. "We're trying to use each game as a stepping stone and each practice to build off of the games until we can get the whole finished product. We're not quite there, but we're working at it."
Grafton, 1-8-2 overall, will return to action Wednesday, with a match at Sheboygan Lutheran at 4:15 p.m.