MEQUON — At the coaches meeting before the start of the WIAA track regional qualifier Monday at Homestead, a meet so monumentally stacked with talent that in many knowledgeable circles around Wisconsin it was known as a "mini" state meet, Highlanders' girls head coach John Krueger tried to lighten things up with a little humor.
"I told them 'Here we are, the moment we've all dreaded,'" he laughed.
He made this joke because every coach in the room knew how challenging it was going to be for their kids to earn one of those top four sectional qualifying spots in each event.
Only the North Shore Conference champion Homestead girls did not seem to dread things much, as the Highlanders won the loaded meet going away and advanced 14 individuals and four relay teams to a sectional meet that will be held today at West Allis Hale.
From there, the top three in each event will advance to the WIAA Div. 1 state meet in La Crosse on June 1 and June 2.
Krueger, whose team had won a very dramatic half-point decision at the North Shore Conference outdoor meet May 16, was pleasantly surprised at how well the Highlanders performed.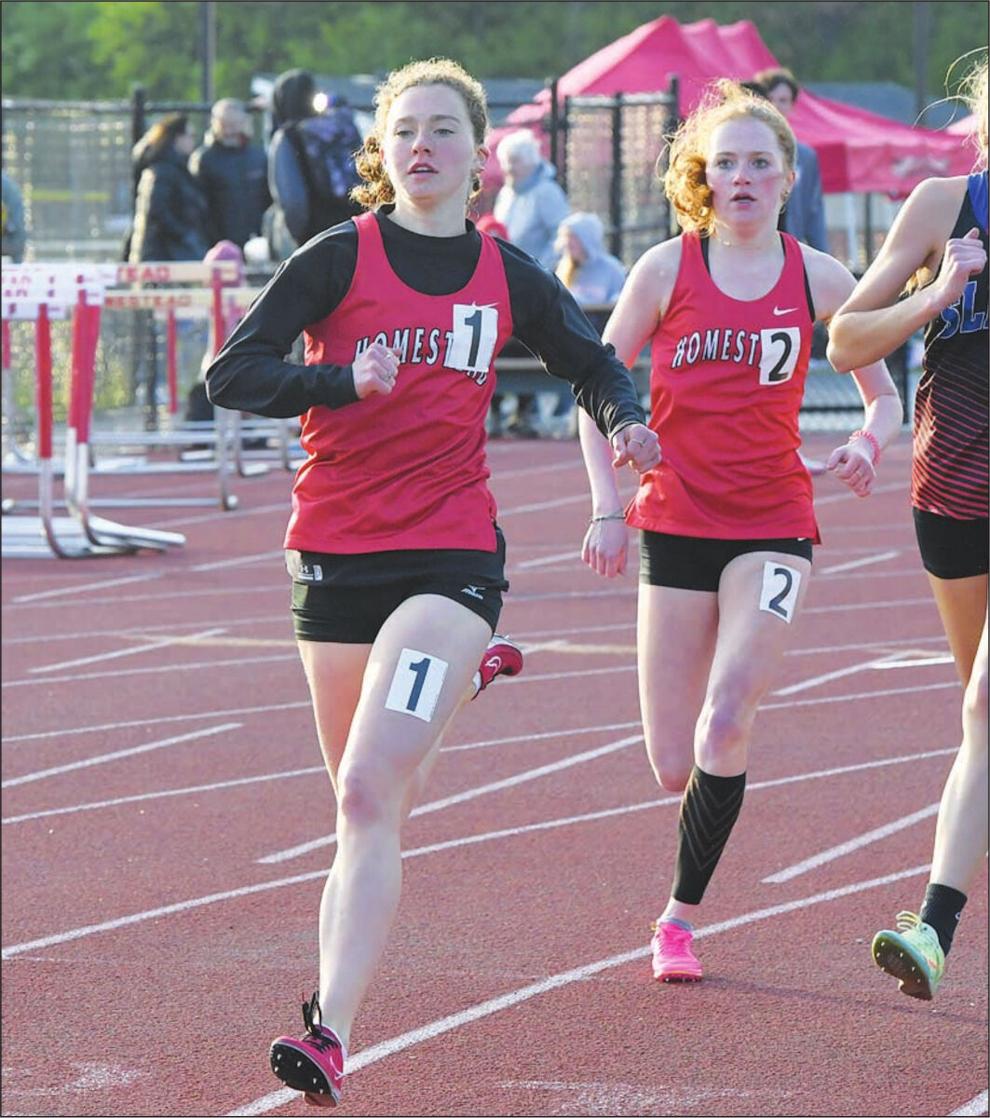 "It was a complete performance," he said, "and we had a bit of a sense that this was coming the last few days of practice. In the throws and jumps, the relays. You saw the kids get their steps down and that the handoffs were clean."
Returning state place-winner Anisa Barnett, who set a new school record in winning the triple jump, also claimed the long jump regional title. She also advanced in the 100 dash and the 4x100 relay.
"It was really fun," Barnett said about a big performance by both herself and the Highlanders. "Everyone on this team supports each other to do their best. We're almost like best friends, there's a really close connection."
Homestead scored 160 points in earning its victory, while state power Arrowhead was second (139.5) and Greater Metro Conference champion Brookfield East was third (106.5).
Meanwhile, the Homestead boys took fourth in the regional meet with 74 points. They advanced six individuals and one relay qualify for the sectional.
On the girls side, behind Barnett's triple jump (38 feet-2 1/2 inches) and long jump (17-5) victories, the Highlanders won six events. Barnett went over 38 feet twice and now sits third on the state honor roll in the triple jump. She was also fourth in the 100 dash (13.19) and part of the third place 4x100 relay (50.28) that also included Kyah McCray, Annika Johnson and Scout Bonkoski.
Another double winner was defending state 300 low hurdles champion Eva Brandenburg, who claimed the 100 high hurdles (15.27) and the 300s (45.3). She was also part of the runner-up 1,600 relay team of Grace Zortman, Shaylin Swenson and Charlotte Lueck (4:02.93).
Savannah Fraley comfortably advanced in both the 1,600 and 3,200. She won the former in 5:21.13, while gliding to third in the latter in 12:02.9.
The 4x800 relay team of Lueck, Caroline Garsha, Sierra Gill and Alexandra Gaskin was also a winner in 9:52.91. The win and the time were even more impressive because the Highlanders held out top runners Fraley and Swenson in order to rest them for the sectional.
Earning seconds were Ava Albrecht in the discus (130-2) and Korynne Moga in the 400 (59.6).
"This is very exciting," Albrecht said about the meet. "It's just great seeing everyone support one another and see them all do so well."
Moga was one of the many great stories on the day for the Highlanders. She felt a twinge in her leg early in last week's NSC outdoor and had to pull out of her remaining events, casting doubt on the rest of her season.
But working hard with the Homestead training staff, she was able to make it back in time for the regional.
Taking fourths for the Highlanders were Sheba Bentum-Mensah in the triple jump (34-7), McCray in both the 100 hurdles (16.22) and the long jump (16-6 1/2), the 4x200 relay team of Leila Lu Maye, Julia Gaskin, Kelsey Hart, Bonkoski, Sophia LaGalbo and Johnson (1:47.9); Swenson in the 800 (2:23.05); Natalie Mueller in the 200 dash (27.73); and Zortman in the 400 (1:01.22).
At the end of the day, a tired Krueger was able to take a deep breath and think about what a great meet it was for his team in an incredibly challenging field.
"This was really fun to watch," he said, "All of us (coaches on other teams too) were just wishing we could just get as many kids as we could to Thursday."
The young Barnett, who is still in the process of figuring out how far she can go in track, knew she was taking part in something special too.
"It was pretty exciting," she said. "This has all been very special. I'm creating such great memories now."
On the boys side of the ledger, Owen Bosley, who owns the state's top times in both the 1,600 and 3,200, led the way with comfortable, deliberately-paced victories in both races. He came across the 1,600 in 4:37.59 and the 3,200 in 9:41.2.
"All I was looking to do today was finish in the top four," he said. "There will be a lot more competition at sectionals, but it's all going towards the same goal. I just want to be on the line (at state) and be the strongest competitor I can be."
Dominic Silhol was second in the 3,200 (9:43.4) and was happy that a long, difficult journey for him seems to be coming to a positive conclusion.
Also advancing with third place finishes were Sal Balistrieri in the 200 dash (23.01) and Aidan Prunskus in the shot put (50-5 1/2). Earning fourths were Jackson Montgomery in the 200 (23.34) and the 4x100 relay of Jet Steltz, Sean O'Byrne, Cornelius Young Jr., Drew Wilson, Balistrieri and Lucas Mersky (43.42).