WEST BEND
Harvey Earl Holler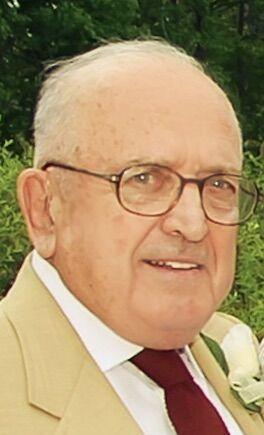 March 29, 1927 — Aug. 31, 2020
Harvey Earl Holler's 93 years on earth ended early Monday, August 31, 2020, in his apartment of 23 years at West Bend's Cedar Ridge Community, hours after suffering a stroke, with family by his side. Born March 29, 1927, Harvey was the sixth of eight children born to John and Eliza Holler. Harvey was preceded in death by his son, Robert Holler; sisters, Anita LeFevre, Ruth Deagle, Gladys Krause; and brothers, Edward Holler and Donald Holler. As a child, he developed his strong work ethic helping run his parents' storefront grocery on Milwaukee's south side. Harvey served in the U.S. Army in Italy from 1945-47. At Bay View High School, he met his sweetheart, Muriel Healy, and after graduating from UW-Madison, they were married in 1950. During their 44 years together in Racine, Baraboo, Milwaukee and Greendale, Harvey and "Meo" raised four children. He worked as a purchasing manager at Nordberg Manufacturing; she as a school teacher. They always made time for church and family vacations, often at the Healy grandparents' Door County cottage. Soon after retiring in 1989, they moved to Hazelhurst. Muriel developed Parkinson's disease and Harvey lovingly cared for her until her death in 1994.

Harvey moved to Cedar Community in West Bend in 1997. In 1998, he became reacquainted with Anna Allison, an old church friend, who had since lost her husband. Romance followed and, as perfect complements for one another in their Christian faith and devotion to family, they married in 1999.
For their 14 years of marriage, they were "quite the pair of lovebirds, who could make anyone watching them smile," as one of her children said. Anna's children, and her many grand and great-grandchildren embraced Harvey as part of their family, enriching his life with love and full calendars. Harvey's children and grandchildren in turn loved and adored Anna. As he had with his beloved Muriel, Harvey cared for Anna at home as her health declined, until her home-going in 2013. After her passing, he continued to find meaning and joy in life at Cedar Ridge, treasuring family visits, church services, volunteer work, memories of travels to 25 countries, reading, playing cards, swimming and other Ridge activities.
He was frugal in his personal life, but generous to family and people in need. He blessed others with his encouraging words, positive outlook, and was a living example of how to do justly, love mercy, and walk humbly with God. In good and hard times alike, he acknowledged Jesus Christ as his God, provider, source of hope, and redeemer.
He is survived by sisters, Ruby Rutter and Hazel Marshall; children: Heidi (Rich) Katz, Bonny (Denny) Scharine, Steven (Kay) Holler; stepchildren: Patricia (James) Hishmeh, Sherry (David) Langille, John (Sandee) Allison, Joy (Vicente) Diaz and many dearly loved grandchildren, great-grandchildren and great-greats in his blended family.
Harvey's family is ever thankful for the long-standing friendships and concern of staff and residents he lived among at Cedar Ridge, and the care he received from Cedar Community Home Health & Hospice, all of whom helped to make each day a great day, right to the end.
If desired, memorials in Harvey's memory may be sent to Cedar Community Partners in Caring (113 Cedar Ridge Dr., West Bend, WI 53095); Baja Mission of Foundation for His Ministry (Box 74000, San Clemente, CA 92673), the Mexican orphanage/school where he and Anna had volunteered several years); Immanuel UCC (501 Walnut Street, West Bend, WI 53095), Faith Evangelical Free Church (9035 Blumenstein Road, Woodruff, WI 54568) or donor's charity of choice.