Edward Meier, 84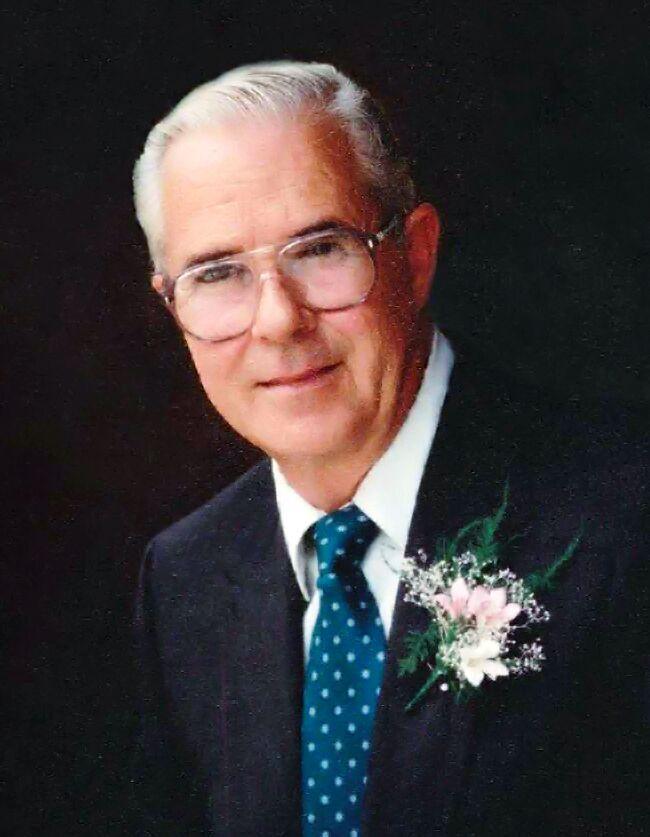 Ed entered heaven peacefully on Friday, March 12, 2021. He was 84 years old. Ed and his twin, William, were born to Martin and Charlotte on December 10, 1936, in Elmhurst, Illinois. Thus began a legacy of faith, dedication to family, and unbeatable work ethic.
Both boys attended Concordia High School in Milwaukee. There, Ed made many lifelong friends and met a true mentor, Dr. Walter Stunkel.
In October 1956, Ed married Carol Wachs, starting a family that expanded to include 5 sons - Robert, Richard, Ronald, Russell, and Roger.
Ed's career began as an accountant, in the days before computers and Excel, at Wisconsin Electric, Badger Meter, WA Krueger, and Amalga. Meanwhile he attended night school at Marquette to earn his bachelor's and master's degrees.
Concordia offered Ed a position in their business department, which Ed gladly accepted as it allowed him to merge his work ethic, business acumen, and faith with his career. He helped with Concordia's move from Milwaukee to Mequon, setting up the small college to become a premier university. He later became the director of Finance at Concordia. Lunch basketball with other faculty was a favorite pastime.
Friendship was key in Ed and Carol's lives. They became friends with Jo (Gladys) and Lloyd Wolter in the late '50s as they lived in the same apartment complex. Both raised families on the northwest side of Milwaukee. The couples remained in touch for many years. Sadly, Lloyd passed away unexpectedly, in December 1983. 
Ed surely leaned on his many friends when Carol was diagnosed with cancer and was called home to heaven on February 27, 1990. Before she passed, Ed and Carol went on a trip to Germany in 1988 with Jo. This trip allowed them to reconnect, and, in a way, Carol was able to bless Ed and Jo's future relationship.
Ed and Jo married at Concordia on May 10, 1991, bringing together a total of nine children - their own "Brady Bunch." The families by then included grandchildren and would gather annually for a Palm Sunday celebration.
Wherever he lived, Ed enjoyed helping others, especially with yard work. He volunteered at churches, as well as St. Vincent de Paul in Florida and Family Sharing in Grafton. He loved watching baseball and reading. Being in the Word and exemplifying the love of Christ were foundational to Ed's daily life.
Ed is survived by his wife, Gladys "Jo"; children: Robert (Lisa) Meier, Richard Meier, Ronald (Deborah) Meier, Russell (Melissa) Meier, Roger (Kirstin) Meier; stepchildren: Kathy (Rich) Ritter, Steve (Sherry) Wolter, Karen (Michael) Donnell, Kevin Wolter; brother Rev. William E. (Judy) Meier.  He is further survived by many grandchildren, great-grandchildren and other relatives and friends. Ed was preceded in death by his parents and his first wife, Carol. 
A funeral service will be held on Friday, March 19, 2021, at 7:00 p.m. at St. Paul Lutheran Church, 701 Washington Street, Grafton, WI 53024. Pastor Scott Kruse will officiate. The family will receive visitors on Friday, March 19, 2021 from 2:30 p.m.- 5:30 p.m. at Eernisse Funeral Home, 1167 Washington Ave., Cedarburg, WI 53012. Private family entombment to take place at Wisconsin Memorial Park.   
Ed's family wishes to extend a thank-you to the Grafton Fire Department, Pastor Scott Kruse, and the medical staff at Aurora Medical Center in Grafton.
In lieu of flowers, memorials to the Concordia University, Wisconsin - The Carol A. Meier Memorial Scholarship Endowment, St. Paul Lutheran Church - School, http://www.splgrafton.org/giving, or Family Sharing of Ozaukee - https://www.familysharingozaukee.org/give/.  
Online condolences may be left at www.eernissefuneralhome.com.