ST. PETER, MINN.
Elfred Bloedel
May 13, 1924 — March 18, 2020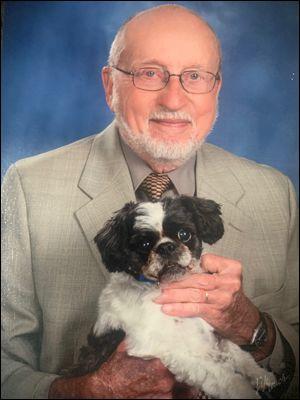 Elfred Bloedel, most recently of St. Peter, Minnesota, and previously of Waukesha, entered eternal life in Christ Jesus on March 18, 2020. Elfred was born on May 13, 1924, in Hamlet, Indiana, to the Rev. Gustav and Clara (Jungkuntz) Bloedel. He became a child of God through baptism at St. Matthew Lutheran Church as an infant, where he was later confirmed in 1937. Elfred attended Concordia Teachers College in River Forest, Illinois, where he met Florence Ahlmann, who would become his sweet wife of 60 years. Elfred graduated from Concordia in 1944, and went on to serve as teacher and principal of Trinity Lutheran in Cedar Rapids, Iowa, and Nazareth Lutheran of Milwaukee. He then became teacher at Congress School in Milwaukee. He earned his master's degree from the University of Wisconsin- Milwaukee in 1960 and went on to become Administrator of Testing for the Milwaukee Public Schools; he served in that capacity for 25 years.
Elfred held a love of music, especially church music, his entire life. He was musical himself early on, becoming his church's organist at age 14 and playing tuba in school bands. While at Concordia, he studied organ at the Rockefeller Chapel in Chicago. He served as organist of St. Matthew, Hamlet; Ascension Lutheran, River Forest; Trinity Lutheran, Cedar Rapids; Nazareth Lutheran, Milwaukee; Grace Lutheran, Milwaukee; and Trinity Lutheran and Mount Calvary Lutheran of Waukesha. He also served on the Commission on Worship for the Wisconsin Evangelical Lutheran Synod, and was part of the Hymnal Committee for the WELS 1993 hymnal, Christian Worship. He wrote a number of hymn arrangements for that hymnal and several others. He continued to play piano the rest of his life. Elfred also enjoyed being physically active—riding a motorcycle, playing tennis and ping pong, gardening, and jogging into his 90s.
Elfred was preceded in death by his parents, six siblings, his beloved wife Florence, and infant twins.
He is survived by one brother, Carl Bloedel of Mankato, Minnesota; children Becki O'Loughlin of Woodbridge, Virginia; Janis Smith of Kansas City, Missouri; Michael Bloedel of Waukesha; Lynn (John) Stephani of Madison; and Carolyn (Jack) Kelly of Saint Peter; eight grandchildren; six great-grandchildren; and numerous nieces, nephews and step-grandchildren.
The Bloedel family wishes to thank the employees of Ecumen Prairie Hill; the members of St. Peter Lutheran Church; the pastors, choir, and members of Mount Calvary Lutheran Church; Rivers Edge Hospital; Mayo Clinic Hospice; and Visiting Angels for their care and compassion.
Memorials are gratefully suggested for Mount Calvary Lutheran Church or St. Peter Lutheran Church.
Cesarz, Charapata & Zinnecker Funeral Home, Cremation and Pre-Planning Services is serving the family. For further information, please call 262-542-6609, or for directions, an online obituary, or to leave a condolence, please visit www.WaukeshasFuneralHome.com.