DAYTON, OHIO
John M. Nevins
May 16, 1926 — May 4, 2020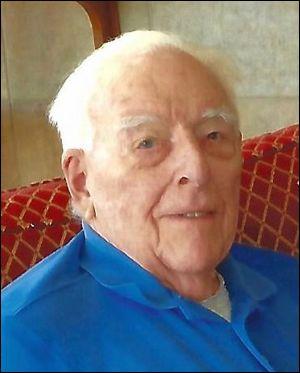 John M. Nevins, 93, peacefully passed into eternal life on May 4, 2020 in Dayton, Ohio. John was born in Chicago on May 16, 1926, to Marvin E. and Marhon Nevins. He graduated from New Trier High School and entered the Navy. After returning from service he graduated from Rose Polytechnic Institute (now Rose Hulman) in Indiana in 1948 with a mechanical engineering degree. He married his wife, Barbara (nee Whalen), in December 1951 in Chicago and soon moved to Philadelphia. In 1954 John and Barbara moved to Waukesha, joining his brother at Wisconsin Centrifugal, Inc. (now MetalTek, Inc.). He retired after more than 30 years as vice president of Sales. John was a longtime member of St. Mary's Catholic Church, Merrill Hills Country Club, and the YMCA Early Birds Exercise Group. He served on the Waukesha city zoning board.
In his younger years he enjoyed a brief career as a competitive speed skater. John participated in many longtime activities including golfing, restoring Model A cars, curling, and a weekly gin rummy game. He enjoyed spending time with his family. John organized regular extended family vacations including fondly remembered cruises to Alaska and Hawaii. John was a Packers fan. One of his great memories was attending the 1967 "Ice Bowl" in Green Bay with his son, Tom.
John was preceded in death by his parents; his wife of over 60 years, Barbara, his daughter Sue Ellen, and siblings Mary (Mimi) Hamilton and M.E (Bob) Nevins. He is survived by his children, Nancy (Tom) Gaudion of Ohio, Tom (Colleen) of California; grandchildren Amy (Matt), Diane (Tim), Jim (Lauren) and Lauren (Ryan); and great-grandchildren Charlie, Katarina, Dylan, Parker, and Meghan. He is further survived by numerous nephews, nieces, and longtime friends.
A special thank-you to the staff of Avalon Square, The Carlyle House, and Hospice of Dayton for the care they provided to John.
Memorial services will be held in Waukesha at a later date when family and friends can safely gather. In lieu of flowers, memorials are appreciated to Catholic Memorial High School, Sue Nevins Endowment Fund, 601 E. College Ave., Waukesha, WI 53186, or St. Mary Catholic Church, 225 S Hartwell Ave., Waukesha, WI 53186. Online condolences for the family may be sent to www.bakerhazelsnider.com.