WAUKESHA
Rodney F. Schultz
July 7, 1932 – March 14, 2020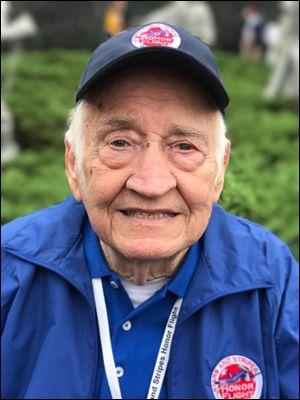 Rodney Schultz was a wonderful man that was loved, is missed, and will always be cherished.
Rodney's story starts on July 7, 1932, in Waukesha, when his parents Anton and Helena Schultz welcomed him into their family.
Growing up, Rodney shared the house with four brothers Milan, (Tony, Gordon and Claude who preceded him in death) and two sisters, Gloria and Shelia. He attended St. Joe's grade school and high school in Waukesha, where he made many lifelong friends.
Rodney served in the U.S. Army from 1952 to 1954 during the Korean War. Milwaukee is where he would meet the love of his life, Marlene Graf. They were married on August 18, 1956. Starting their life together, Rodney worked at several places until taking a job at Waukesha County Technical Institute where he worked in the maintenance department for 27 years before retiring.
Once retired, Rodney began spending his time volunteering and sharing his amazing voice at local nursing homes and the
VA hospital. Because of his love of ice skating he became a rink guard at the Pettit Center, where he served for many years. One of his favorite causes was the MACC Fund which he supported by raising money and riding his bike for several 60-mile rides and once even completing a 100-mile ride!
Rodney also enjoyed a sense of adventure canoeing, camping and riding motorcycles, taking trips to the Indy 500, California, Yellowstone and Pikes Peak.
Later in his life, he survived prostate cancer and as a result made a decision that would change his life forever. At age 67, he committed his life to the Lord and was baptized at River Glen Church where he served as a greeter. He continued to share his gift of his voice and loved to share his "testimony" of his changed life with whoever would listen.
He was survived by his loving wife, Marlene, of 63 years. However, one week after Rodney going home Marlene joined him and now, they are both together for eternity (see Marlene's obituary).
Rodney and Marlene are also survived by son Glenn (Jessica) Schultz, and daughters Gail Schultz and Gwen (Steve) Travis. One of Rodney's greatest pleasures was spending time with his granddaughters Samantha and Claire (Glenn's daughters) and Ashley and Emily (Gwen's daughters) and especially his sister Gloria, Shelia, and brother Milan and sister in-law Alyse Schultz. He was the beloved "Uncle Rodney" to many other nephews, nieces, that were very dear to him.
A special thank you to the staff at Shorehaven and AngelsGrace in Oconomowoc for the compassionate care given to Rodney.
Private family burial will be at Prairie Home Cemetery.
In lieu of flowers, we ask that you consider donating to Rodney's daughter Gail's medical needs: a Go Fund Me Page has been established at www.gf.me/u/xsufxz.
Randle-Dable-Brisk Funeral Home, Crematory and Preplanning Service is honored to serve the family. For further information, please call the funeral home at 262-547-4035 or visit us online at www.randledable.com to leave the family an online tribute message.