DOUSMAN
Jane L. Davenport (nee Schultz)
Aug. 6, 1923 - Jan. 23, 2021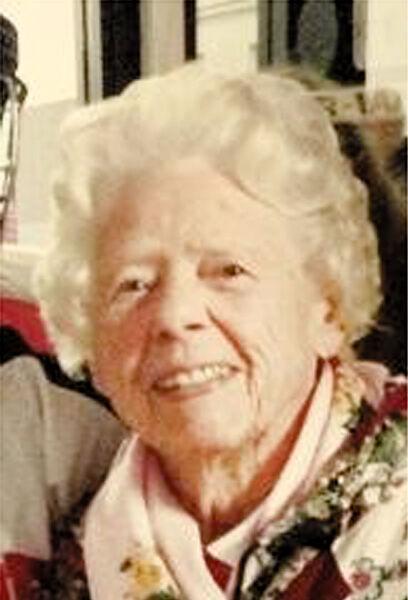 Jane L. Davenport (nee Schultz), age 97, passed away January 23, 2021. She was born on August 6, 1923 in Hartland, to Leo and Vera Schultz. She married her high school sweetheart, Robert "Bob," on June 24, 1943, when Bob was stationed at Laughlin Air Force Base in Del Rio, Texas. Bob preceded her in death in 2009.
Jane was an active member, along with her husband, at Holy Trinity Lutheran Church for over 60 years, even volunteering as the church secretary for a time. Following a move to assisted living at Three Pillars in January 2018, Jane became a member of St. John's Lutheran Church in Sullivan.
Jane and Bob graduated from Oconomowoc High School and over the course of Jane's lifetime, she was employed as a secretary for both the Keck and Chandler Advertising Agencies, drove a school bus for Oconomowoc area schools, where she especially loved her kindergarten route, and was a bookkeeper for her son's business.
Jane loved her family, enjoyed bowling, working in her yard and garden, cherished her independence, and was incredibly hard-working. 
Jane is survived by her children Patricia (Dennis) and Peggy; her grandchildren, Phil, Kristen (Mike), Mark (Karen) and Jenny; her great-grandchildren Daniel, Taylor (Chris), Abby (Hunter), Carter, Claudia, Jacob, Kyler and Chase; and her great-great-grandchildren Pierce and Kylie.
She was preceded in death by her loving husband, Bob; her beloved son, Robert "Bob"; her dear great-grand-daughter, Sylvia; and her parents, Leo and Vera Schultz.
Visitation will be held February 3, at St. John's Lutheran Church, W407 Highway 18 in Sullivan from 11 a.m. until time of service at 1 p.m.
Schmidt & Bartelt Notbohm-Kreutzmann Funeral and Cremation Services is serving the family. For more information, call 262-567-4459 or visit online at www.schmidtandbartelt.com.