Marsha Helen Tyacke
June 2, 1977 — Sept. 13, 2021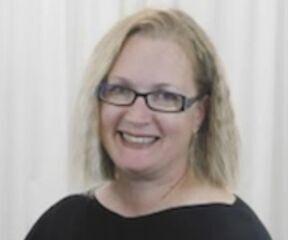 Marsha Helen Tyacke, Ph.D., 44, was born June 2, 1977, in West Allis, to Gordon and Susan (Leideritz) Datka. She married Scott L. Tyacke on May 22, 1999, and they spent most of their married years in Waterford together, with their 3 beautiful children. Marsha left us to meet Jesus on Monday, September 13, 2021, while being cared for at AngelsGrace Hospice, in Oconomowoc.
Marsha is survived by her husband of 22 years; their children, Devyn, Noah and Sydney; both of her parents; her mother-in-law, Gladys Sterry; her sister, Lisa (Joe) McFadden; her nieces and nephews, Cameron, Katelyn, Chloe, and Cohen; and many dear aunts, uncles, cousins, and friends.
She was preceded in death by her maternal grandparents, Felicia and Marshall Leideritz; her paternal grandparents, Myron and Helen Datka; and several dear aunts, uncles, cousins, and friends.
Marsha may have left us too early, but she leaves behind an amazing legacy. She grew up a farm girl, on a small hobby farm in Mukwonago with her parents, sister, grandfather, and usually quite a few animals. The girls grew up baling hay, chasing sheep, and hanging out inside of gravity wagons together, telling stories and dreaming dreams. She had to grow up too quickly when she was diagnosed with cancer in 1991. She fought hard and officially beat it a year later. She went on to play volleyball, participate in band, and had a rather normal high school career. She graduated from Mukwonago High School in 1995. Marsha's passion for learning and drive for the absolute best, took off from there.
She graduated from UW-Whitewater with a Bachelor of Arts (Psychology) in 1998, completed her Bachelor of Science (Nursing) at UW-Milwaukee in 2002, her Master of Science (Nursing) at Marquette University in 2010, attained her Doctor of Philosophy (Nursing) from Marquette University in 2018, and she completed her Fellowship in Clinical Medical Ethics at the University of Chicago shortly after that. Through those 20+ years of education, she thrived professionally and built strong relationships with colleagues, patients, and patients' families. She was a Nurse Practitioner at Froedtert Menomonee Falls Hospital and Associate Professor at Marquette University School of Nursing, through her final days with us.
Marsha's educational and professional resume far exceeds what we can write about her here, and her accomplishments are many. Above all of her education and work, she was a wife and mother, a daughter and sister, an aunt and friend. She devoted every breath she took to her family; making sure that her children had the very best but stayed humble, that her parents were healthy and that their medical needs were always met, and that her entire family knew that they were loved fiercely above all else. She knew that everything that she had attained was a blessing and she took nothing for granted.
When she was diagnosed with an extremely rare primary brain tumor in August of 2020, she and the entire family were devastated, but she was determined to fight, and fight is what she did. She filled those 381 days with memories and a lot of love. She spent time with Scott and the kids, and they saw New Orleans, Washington, D.C, and Hawaii together. The Datka, Tyacke, and McFadden families all spent Memorial Day in Wisconsin Dells, laughing, splashing, playing, and having fun together. We celebrated Marsha's 44th birthday together, just a few days early, with one of her favorite desserts, mom's cherry crunch cake.
Marsha was and is a survivor. She wanted to be remembered for her passion, love, and the beautiful life that she lived for 44 years. "For we are His workmanship, created in Christ Jesus for good works, which God prepared beforehand that we should walk in them" (Eph 2:10). Marsha walked in the many good works God prepared for her on this earth, and she will continue to walk in those good works for generations to come.
The family would like to thank the staff at AngelsGrace Hospice, for their loving care of Marsha and our entire family. We would also like to thank Dr. Zwagerman, Dr. Connelly, Dr. Charlson, and her entire medical team at Froedtert & Medical College of Wisconsin. We are forever connected to the many colleagues and friends that helped the family provide Marsha with the best care in her final days, especially Deb, Kerry, Jane, Linda, Mary, and Anne. We would also like to thank all those that have contributed with meals, cards, visits, rides to treatments for Marsha, rides to extracurriculars for the kids, home improvements for Marsha's time at home, and the many people that have been praying over her journey.
A celebration of Marsha's life will be held on Wednesday, September 29, 2021, at Brooklife Church, in Mukwonago. There will be time to visit with family and friends from 10 a.m. to 12 p.m., with a service immediately following that time.
In lieu of flowers, donations can be made to The MCW Brain Tumor Research Program to support the ongoing research of Marsha's brain tumor as well as others'. Please mail them directly to: The Department of Neurology Attn. Dr. Jennifer Connelly 9200 W. Wisconsin Ave Milwaukee, WI 53226 Schmidt and Bartelt is serving the family and can be reached at 262-363-7126 or www.schmidtandbartelt.com.