WAUKESHA — The cozy restaurant at S31W24661 W. Sunset Drive has been a fixture in the community for nearly five decades. Over the years, the business switched hands a couple times, but always remained in the family. Now, Jessica Tallinger is celebrating her 10th anniversary as owner of Tally's Tap & Eatery.
Tallinger hadn't initially planned on taking over the family business, but sprang into action upon hearing that the restaurant was going up for sale back in 2013. She said had to keep the family tradition alive.
"I got really emotional when I found out they were going to sell it. I made a really quick decision," she said.
In order to revive the building, Tallinger and her husband Kevin Kuss put in a lot of elbow grease. In 2016, the couple did a $1 million remodel to modernize the business.
"The building was a little bit different back then. It was a family restaurant when my grandparents had it back in the 70s. Then my dad evolved it into a sports bar," Tallinger said. "We started figuring out, outside of cleaning and painting, how we were going to bring it up to date and make it more of a destination for people to come to. … We finally found an architect that could open the two rooms. It really transformed the place."
In addition to the open concept main dining area and bar, Tally's also has a private room to rent out for special occasions and a large back patio.
They make the most out of their large property by hosting a variety of events throughout the year.
Tallinger reports that customers get especially excited about the raffle with Roberts' Specialty Meats, Saturday night karaoke, and adults-only bingo with Milwaukee drag queen Ester Flonaze.
Beyond the restaurant's events, customers also keep coming back for the homey cuisine and extensive menu.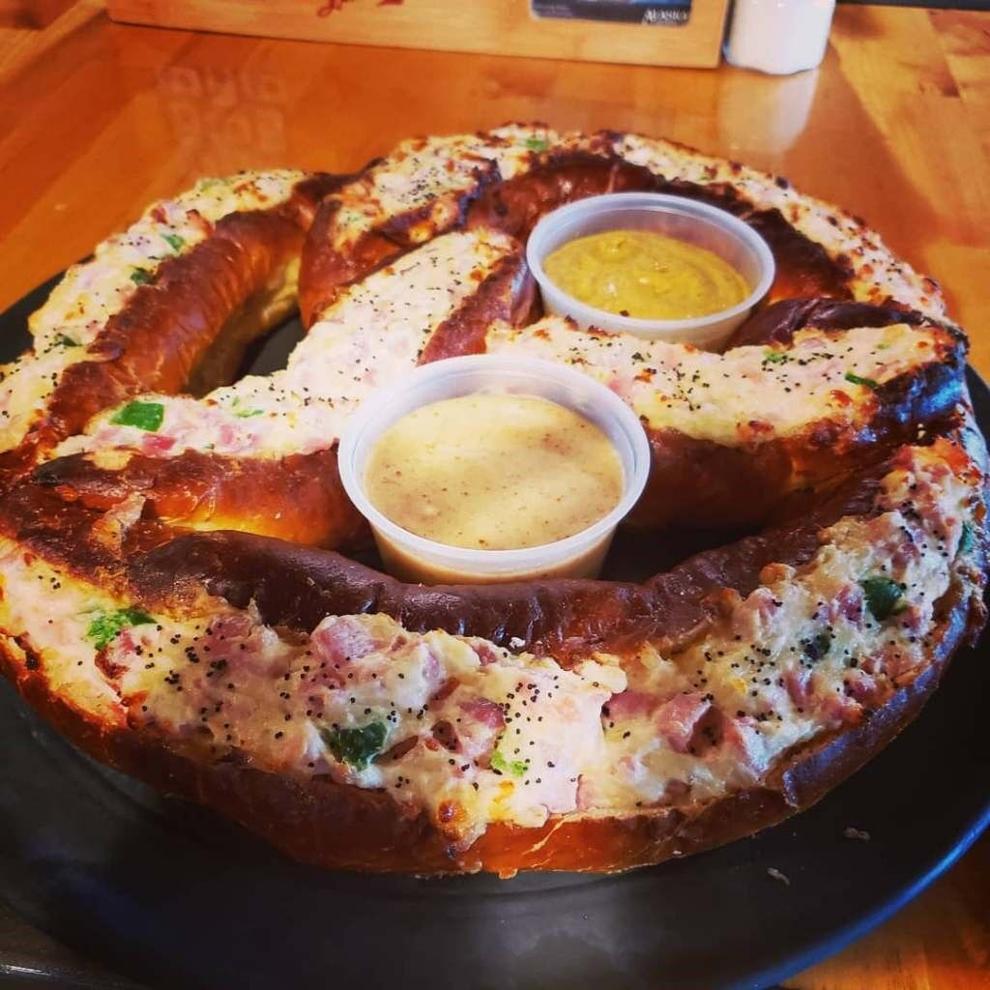 Tally's boasts a variety of salads, wraps, burgers, and sandwiches with a number of rotating weekly specials. But according to Tallinger, the stuffed pretzels are the crowd favorite. "It's the thing that people always come here for," she said.
In order to bring this creation to life, Tally's fills giant bar pretzels with their homemade cream cheese dip and different spicy, savory, and sweet toppings. Some of their flavors include a pizza pretzel, Buffalo pretzel, Wisconsin beer brat pretzel, Reuben pretzel, and a ham, Swiss, and jalapeno pretzel. Tally's also offers a take-and-bake version of the stuffed pretzels for people who want to bring the dish home.
Tallinger likes to keep things feeling fresh by updating the menu every six months, but she always listens to what her customers have in mind.
"We have a really amazing group of regulars that come in here. There's the people you see every day, there's the people you see once a week, there's the people you see once a month. They all have really good input and suggestions. It's fun to see what they're looking for," she said.
On top of her loyal customer base, Tallinger is thankful for the committed staff at Tally's. The majority of the restaurant's employees have been there for more than three years and one of the bartenders has actually been with the restaurant longer than Tallinger has owned it.
"I've had people here that I inherited with the sale of the building," she said. "I have one of the best teams. I love my staff. … We're just one big family. We don't have a lot of turnover."
Looking ahead, Tallinger is planning an event to celebrate the restaurant's anniversary in August.
Tally's Tap & Eatery is open Wednesday through Monday with the kitchen opening at 11 a.m. and closing at 10 p.m.
On Sundays, the kitchen closes at 8 p.m. The bar is open until midnight.
For more information, visit tallystap.com.