WAUKESHA
Juliana Valdés De Regalado (nee Valdés Mandujano)
Feb. 16, 1931 - June 18, 2022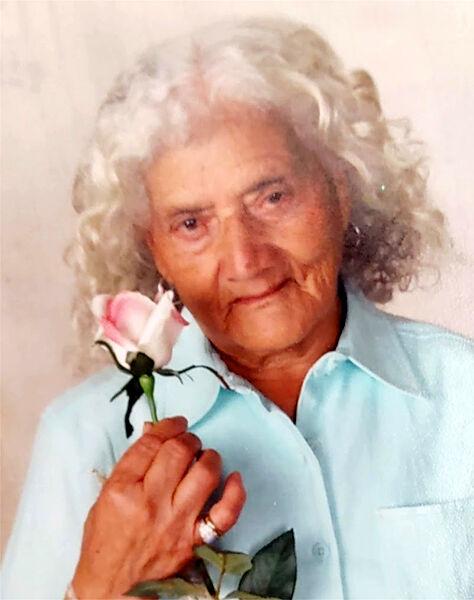 Juliana was born in Curinhuato, Michoacan, Mexico, to José Valdés Alanís and Florencia Mandujano Santillán on February 16, 1931. She was born to eternal life on Saturday, June 18, 2022, surrounded by the love of her family and her Catholic faith, at the age of 91.
Beloved wife of the late Galdino Regalado Lopez. Loving mother of Adela Regalado Valdés and Hilario Mora, Cirenia Dominguez and Isidro Dominguez, Maria Concepción Regalado-Valdés and Eulogio Sandoval Alanís, Ventura Regalado Valdés, Alfredo Regalado Valdés, the late Ursula Regalado-Valdés, Isidro Regalado- Valdés, Jose Antonio Regalado-Valdés and María Dolores Santos Cruz, Olivia Asencio and Homero Asencio, Alicia Regalado-Valdés, Maria Wisniewski and Scott Wisniewski and Josefina Regalado-Valdés. Dear grandmother of Olivia Mora-Regalado and Juan Alanis-Arteaga, Celestino Mora-Regalado, Hilario Mora Regalado and Rosa Angeles Bautista, Rene Mora Regalado and Berenice Barrientos, Lorena Mora-Regalado and J. Refugio Flores, Galdino Mora-Regalado, Mayra Mora-Regalado, Rolando and Cristal Dominguez, Gerardo Dominguez, Nancy Dominguez and the late Miguel Dominguez, Rocio Sandoval- Regalado and Mauro Rivera, Hermelinda and Miguel Gutierrez, Casto Sandoval-Regalado, María de los Angeles Sandoval-Regalado, Jaime Sandoval-Regalado and Maria Hernández, Mónica Sandoval-Regalado and Victor Santos-Alanís, Rosalía Sandoval-Regalado and Angel-Santos Alanís, Eva Sandoval-Regalado and Jacobo, Rosaura Sandoval- Regalado and José F. Barrios, Julio Sandoval-Regalado and Brenda, the late Cristal Sandoval-Regalado, Karen Sandoval-Regalado and Gerardo Martínez, Wendy Sandoval- Regalado, Diana Sandoval-Regalado and José de Jesús Barrios, Guadalupe and Jimmy González, June M. Regalado and Keil, Ursula Regalado and Adrián Arevelo, Cristal Regalado, Julia U. Regalado-Santos and Juan Guido-Trenado, Almineyde and Eliazar García, Dolores Regalado and Victor López, Jose Antonio Regalado Jr., the late Victoria Mager, Michael Mager, Jessie Asencio, Neivette Regalado, Christopher A. Regalado, Alicia Areola, Rogelio Arreola Jr., Isabel Regalado, Itzayana Jade Alanís-Regalado. Dear great-grandmother of Diana, Hilario Jr, Giovanni, Azucena, Gina, Ricky, Jordan, Ahneeza, Misael, Adaliah, Eleasar, Zyanya, Elodie, Aisel, Galdino, Merced, Geraldine, Estrella, Perla, Iris, Rosemary, Jesús, Gyovani, Linda, Rosa, Julián, Juliana, Alex, Nataly, Mateo, Victor Manuel, Jackie, Karla, Emily, Max, Lía, Stephanie, Lisette, Yuritzy, Valentina, Alizon, Axel, Carlos, Cecilia, Jorge, Angel, Santiago, Aylin, Milani, Melissa, Josiah, Joaquín, Jaziel, Lexiana, Waylon, Riley, Julián, Abril, Sebastián, Kayla, Gisselle. Dear great-great-grandmother of Evelyn, Andy, Jayden, Luca and Kamila. Juliana will also be remembered by her sisters Fira and Gloria, her brothers Raúl, Juán, Fello and Chino, her nieces and nephews, other relatives and friends.
Juliana was a remarkable woman, unlike anyone else. She was very considerate, light-hearted, easy going and had a charming personality. Above all, she had unconditional love toward everyone. Juliana's life growing up was not easy, but no matter what, she would always lead by example with a positive attitude. Emotionally and spiritually, she was a leader in the community. She was a self-taught, hardworking and a resourceful woman. For instance, she taught herself how to make cheese, clothing and sell them as well as dry peppers to make ends meet. Additionally, her eagerness to learn how to write and read was extremely high and she learned quickly by learning with her uncle Lencho.
A special thank you to the Rehabilitation Center of Wisconsin, ProHealth Family Practice, Community Care and Blessit Hands, Waukesha Memorial Hospital, Dr. Geish and Dr. Hanka, Dr. Sajjad, Dr. Ali and all other specialist from ProHealth for all their compassionate care. A special thank you to her main family caregivers; her daughter Josie Regalado, her granddaughter, Hermelinda Gutierrez, her daughter Alicia Regalado, her daughter Maria Wisniewski, her son and daughter-in-law Jose Antonio and Dolores Regalado, her daughter Olivia Asencio and her granddaughter Guadalupe Gonzalez for all their tender loving care.
Visitation will be held on Wednesday, June 22, at Church and Chapel Funeral Home, 380 Bluemound Road (at highways J and JJ, four blocks south of Interstate 94), Waukesha, from 5-8 PM. Additional visitation will be held on Thursday, June 23, at St. Joseph Catholic Church, 818 N. East Ave., Waukesha, from 10-10:45 AM, followed by the Mass of Christian Burial at 11 AM. Interment at St. Joseph Cemetery, Waukesha.
In lieu of flowers, memorials to American Kidney Foundation, American Heart Association or American Diabetes Foundation would be appreciated Church and Chapel Funeral Home is serving the family. For more information, call 262-827-0659 or visit www.churchandchapel.com to view the online obituary or leave condolences.